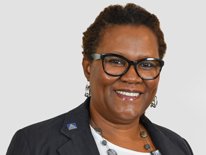 (Bren) Elliott has spent the last eight years working as an educator in North Carolina. Since 2014, she has served as Assistant Superintendent for Student Support Services for Wake County Public School System (WCPSS). Prior to coming to North Carolina, Brenda spent 15 years working as an educator in Nashville, Tennessee. Her assignments in Nashville included area director, high school principal, middle school principal, and high school teacher.
Bren has vast experience building and leading equity and social emotional learning initiatives. In WCPSS, she led the implementation of a Comprehensive Plan for Equity Discipline Practices to address racial disparities in discipline outcomes and the implementation of a district-wide multi-tiered system of support for academics and behavior. While serving as the Executive Director for Student Support Services in Guilford County Schools (GCS), she led a district-wide character development initiative focused on building students prosocial skills and attributes. As part of this initiative, a High School Service-Learning Diploma program was created and by 2014, GCS seniors had documented more than 650,000 hours of service to their schools and community, equating to an economic impact of more than $14 million. She also has helped to implement restorative practices, trauma-informed practices, and programs to increase access to college and career readiness resources and to address food security. She has collaborated with law enforcement and the community to create diversion programs and to address disproportionate law enforcement contact. And she has worked with school-based staff to eliminate the predictability of student outcomes by race, ability and socio-economics.
Bren Elliott is a systems-thinker and an innovator. She has more than 23 years of experience as a public educator. She cites as the major contributors to her success, a strong belief that students can and want to succeed and strategically working to build a team of educators, students, parents and community members who believe the same.