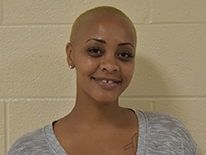 Kelly Miller Middle School
Loren Robinson is the Connected Schools Manager at Kelly Miller Middle School in partnership with Communities in Schools of the Nation's Capital. Loren, a native of Bronx, NY, has served as an educator, mentor, and counselor in DC Public Schools as well as in non-profits throughout the DMV. She is committed to working with children and families in schools and in the community. Prior to her current role, she held a plethora of positions, all focused on empowering traditionally under-served communities. She has dedicated the last five years to mentoring young men and women, working closely with homeless families and non-profit organizations in Wards 7 and 8. She also works with youth as an Intensive In-Home Counselor and with mentally ill adults as a program director and counselor.
Loren attended Virginia State University where she received her Bachelor of Science in Psychology and Argosy University where she received a Master of Science in Clinical Counseling. She is a 12-year cancer survivor of Stage 2 Non-Hodgkin's Lymphoma and owes her recovery to her magnificent team of doctors and her village of loving family members and friends.
For more information about Communities in Schools of the Nation's Capital, please visit cisnationscapital.org.