DCPS School Year 2022-2023 Calendar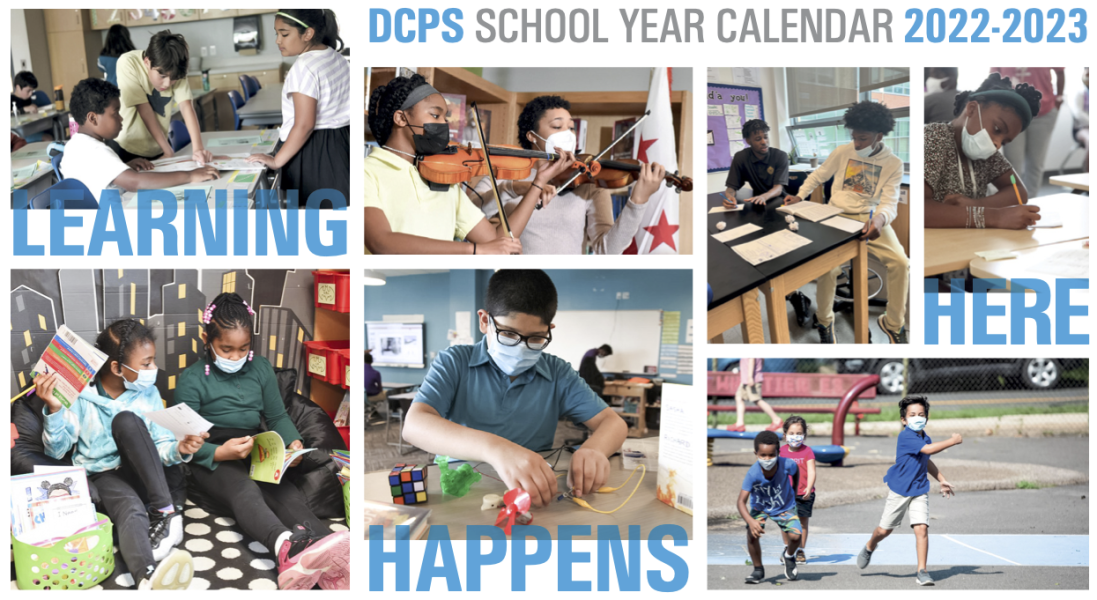 Families, staff, and community members are encouraged to utilize the school year calendar to be aware of important dates for DCPS. You can find scheduled days off for students and teachers, District holidays, and religious and culture dates throughout the year.
Printed versions of the SY22-23 calendar are available at schools, but you can download them at the links below. The poster version is a large-scale, detailed calendar, and the at-a-glance version is designed to be printed at home.
Important Dates for SY22-23
August 19 to August 26 - Pre-service for teachers and school staff
** August 29 - first day of school for grades K-12 **
** September 1 - first day of school for Pre-K students **
September 5 - Labor Day (DCPS Closed)
September 25 - Rosh Hashanah begins at sunset
September 27 - Rosh Hashanah ends in evening
October 4 - Yom Kippur begins at sunset
October 5 - Yom Kippur ends in evening
October 6 - Parent-Teacher Conferences (No school for students)
October 7 - Professional Development Day (No school for students)
October 9 - Sukkot begins at sunset
October 10 - Indigenous Peoples' Day (DCPS closed)
October 16 - Sukkot ends in evening
October 24 - Diwali
October 31 - Halloween
November 6 - Daylight Savings Time Ends
November 7 - End of Term 1 Records Day / Professional Development Day (No school for students)
November 8 - Election Day (No school for students or teachers)
November 11 - Veterans Day (DCPS closed)
November 23 - Thanksgiving Break (No school for students or teachers)
November 24 - Thanksgiving Day (DCPS closed)
November 25 - Thanksgiving Break (No school for students or teachers)
December 18 - Hanukkah begins at sunset
December 23 - Winter Break begins (No school for students or teachers)
December 24 - Christmas Eve
December 25 - Christmas Day
December 26 - Christmas Day observed; Hanukkah ends in evening; Kwanzaa (DCPS closed)
December 27 to December 30 - Winter Break (No school for students or teachers)
December 31 - New Year's Eve
January 1 - New Year's Day
January 2 - New Year's Day observed (DCPS closed)
** January 3 - classes back in session **
January 7 - Orthodox Christmas
January 16 - Martin Luther King, Jr. Day (DCPS closed)
January 23 - Lunar New Year
January 25 - End of Term 2 Records Day / Professional Development Day (No school for students)
February 20 - President's Day (DCPS closed)
February 21 to February 24 - February Break (No school for students or teachers)
March 6 - Purim begins at sunset
March 7 - Purim ends in evening
March 9 - Parent-Teacher Conferences (No school for students)
March 10 - Professional Development Day (No school for students)
March 17 - St. Patrick's Day
March 22 - Ramadan begins in evening
April 5 - Passover begins at sunset
April 7 - Good Friday
April 9 - Easter
April 10 - End of Term 3 Records Day / Professional Development Day (No school for students)
April 13 - Passover ends in evening
April 16 - Orthodox Easter
April 17 - DC Emancipation Day (DCPS closed)
April 18 to April 21 - Spring Break (No school for students or teachers)
April 18 - Ramadan ends in evening; Eid al-Fitr begins in evening
April 22 - Eid al-Fitr ends in evening
May 14 - Mother's Day
May 29 - Memorial Day (DCPS closed)
June 18 - Father's Day
June 19 - Juneteenth (DCPS closed)
** June 22 - Last day of school for students **
June 23 - End of Term 4 Records Day / Professional Development Day
June 26 - Planned snow make up day
June 27 - Planned snow make up day
June 28 - Eid al-Adha begins in evening
June 29 - Eid al-Adha ends in evening