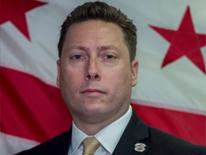 Ely S. Ross is the Chief Operating Officer for the District of Columbia Public Schools. Ely has over 20 years of success optimizing processes and building programs for diverse state and federal government agencies. He works to create nimble, organized, appropriately resourced organizations that can quickly pivot to address stakeholder and organizational concerns. As a transformational leader, Ely works to effect large-scale, lasting change by stabilizing and strengthening operations and removing barriers to shared success.
As the Chief Operating Officer, Ely oversees the agency's day-to-day operations. He manages teams responsible for Operational Strategy, Strategic School Operations and Logistics, Facilities and School Planning, Food and Nutrition Services, School Security, and Compliance. Ely has championed an agency-wide Agile leadership transformation, the adoption of Objective and Key Results to drive and sustain focus on strategic priorities, as well as other industry best practices to achieve better operational efficiencies.
Before joining DCPS, Ely served as the Chief of Staff for the Department of Parks and Recreation, where he drove operational and policy priorities related to the department's combined operating and capital budget of $218 million, more than 1,000 employees, and a diverse portfolio of 104 recreation facilities, 930 acres of green space, and 212 fields and playgrounds. DPR served more than 2 million visitors annually through expanded programming and facility access and was ranked the best park system by the Trust for Public Land in 2019 and 2021.
Prior to serving at DPR, Ely joined the Bowser Administration as the Director of the Mayor's Office of Veterans Affairs. In this capacity, Ely was responsible for ensuring that the District's 30,000 veterans and their family members could access the benefits they earned as a result of their military service. Ely built new programs from the ground up to support the needs of the District's veterans, including on-demand transportation services, legal clinics, service record corrections, business counseling, pathways to work, vocational rehabilitation training, and many others. These programs now serve over 10,000 veterans annually and provide an annual benefit of $3 million to the District's veterans. The Office was awarded the 2018 Lincoln Award for Operational Excellence by the U.S. Department of Veterans Affairs and the National Association of State Directors of Veterans Affairs.
Before joining local government, Ely was a practicing attorney with the U.S. Surface Transportation Board, where he focused on transportation law, economic regulation, administrative law, and alternative dispute resolution. Ely also served as a Presidential Management Fellow with the General Services Administration's Public Building Service and the U.S. Department of Veterans Affairs' Office of Asset and Enterprise Management.
Ely is a veteran of the United States Marine Corps. His forward deployments included Japan, the Republic of Korea, the Philippines, Malaysia, Singapore, Thailand, and Iraq during Operation Iraqi Freedom.
Ely earned his undergraduate and graduate degrees from Hawaii Pacific University and his law degree from the Pennsylvania State University, Dickinson School of Law. He is a Ward 5 resident and an avid Nationals fan.