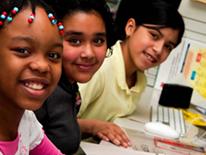 What is the Middle Grades Initiative (MGI)?
The Middle Grades Initiative was created to provide support, both financial and otherwise, to schools and assist in ensuring each sixth through eighth grade student enjoys a middle grades experience that is academically challenging, culturally enriching, diverse, and socially stimulating.
Each school received a total of $28,000 to support middle school initiatives within their school. These funds were split between travel ($23,000) and supplies ($5,000) to increase the number of field trips and excursions, hence broadening the exposure of our students, as well as strengthening the life-to-text connections between classroom learning and real-world application. Ideally, each student will have had the opportunity to attend a minimum of one trip per semester.
What are the benefits of MGI?
Exposure is the number one benefit of MGI. Middle grades are packed with curiosity. Therefore, this is the best time for them to be exposed to various clubs, activities and offerings within the district, and to travel regionally or internationally. It is also the most appropriate time to introduce them to colleges and universities.
MGI Cohort '17-'18
SY17-18 MGI Middle Schools
Brookland MS
Deal MS
Eliot-Hine MS
Hardy MS
Hart MS
Jefferson MS
Johnson MS
Kelly Miller MS
Kramer MS
MacFarland MS
Sousa MS
Stuart-Hobson MS
SY17-18 MGI Education Campuses
Brightwood EC
Browne EC
Capitol Hill Montessori
Cardozo EC
Columbia Heights EC
LaSalle-Backus EC
McKinley MS
Oyster-Adams Bilingual School
Raymond EC
School Without Walls
Takoma EC
Truesdell EC
Walker-Jones EC
West EC
Wheatley EC
Whittier EC
Looking forward to SY '17-'18
SY '17-'18 Minimum Requirements per School
To ensure equity for all middle school students, middle grades will have required minimum offerings in the areas of field trips, sports, clubs and music programming.
Research shows that "enrichment" field trips (e.g. museums and historical sites) are a valuable part of a student's education. They not only culturally enrich students, but they allow students to learn more about the world around them. Middle school students will participate in at least one enrichment field trip per semester, per grade level. Schools also have the option to have middle school students participate in one international field trip for the year.
Requirements for sports teams will be determined by DCPS Office of Athletics.
Clubs

Requirements for clubs are based upon student enrollment.
Schools with less than 200 students will have a minimum of three clubs. Of the clubs offered, at least one should be available per semester. For example, no school should have all club offerings during the spring semester.
Schools with more than 200 students will offer one club per fifty students enrolled with at least one club offering per semester.
Planning of clubs for next school year should commence during spring semester of current school year to allow ample time for student and staff feedback on desires of student body.


Music Programs
Schools will offer at least three music programs per school year. This will include a general music class, band, chorus, or other offering as determined by the principal.
Student Government
For more information about how students can participate in the student government of their schools, visit the Student Government page.
For more information about DCPS clubs and activities please contact Renee Abdullah at (202) 719-6639.