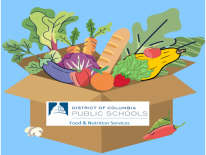 These market boxes will provide 7 days worth of meals for our students to consume throughout the week.
Market boxes are currently available for pick up from the following four DCPS open meal sites:
Excel Academy
Langdon Elementary
McKinley High School
H.D. Woodson High School
Boxes are distributed on Thursdays during open meal site hours (10am-2pm) and pre-registration is strongly encouraged; a box cannot be guaranteed if you do not pre-register. You may pre-register at the link below or in person at the meal site.
The deadline for pre-registering is Thursday one week ahead of your intended pick up date.
To reserve your market box, click here
See below for storage instructions, cooking instructions, fun enrichment activities, and video recipes.
Click here for fun enrichment activities to do at home!
Click here for recipes and recipe videos!