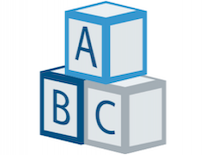 Welcome to Ready for PK!
Want to learn about how to help your child get ready for school?
Wondering if your two-year-old's development is on track?
Curious about what happens in PK3?
For many families, the Covid-19 pandemic has changed the way we engage with the world on a daily basis. For toddlers this may mean that they are spending less time playing at daycare and more time at home with an adult. Join us to learn more about how you can create and strong learning environment at home!
At DCPS we know that families are children's first and most important teachers! Long before children start school they are growing and developing key skills that lay the foundation for later learning. In fact, by age 3, nearly 80% of brain development has occurred. That's why we're launching Ready for PK! - a special DCPS Parent University series for families of toddlers and two-year-olds. These sessions will provide information about key developmental skills, ways to support your child's learning at home, and help you to feel confident that your child is Ready for PK!
Each virtual learning session will focus on a different area of learning that is closely related to children's success in Pre-Kindergarten and beyond. Sessions will be facilitated by a variety of content experts including DCPS early childhood Instructional Specialists, PK teachers, DCPS Early Childhood Family Services Team members and other experts in child development. Each session will offer the opportunity to ask our experts questions about your child's development and how you can support their learning at home.
Sign Up for an Upcoming Session
Ready for PK sessions will take place once a month from 5:30-6:30 pm. Sign up for one of our virtual sessions using the links below.
Wednesday, November 18th
Wednesday, December 16th
Wednesday, January 27th
Additional Resources
DC Public Library Sing, Talk and Read (S.T.A.R)