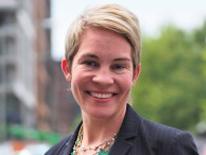 For nearly 25 years Sarah has served the community that raised her, either through direct community engagement and outreach with the District of Columbia Government or through direct service with local and national nonprofit organizations in Washington, DC. Sarah's passion for serving youth and families furthest from opportunity and amplifying their voices through meaningful and authentic engagement shapes the way she approaches her work at DC Public Schools.
Sarah currently serves as the Engagement Officer for DC Public Schools where she leads a team responsible for ensuring that every student's success is accelerated by partnerships with families and communities. Key tenants of the work led by the team are focused on building trusting relationships and academic partnerships with our families through home visits, information and resource sharing such as Parent University, capacity building for educators and school leadership through collaborative fellowship opportunities, creating equitable opportunities for leadership to engage with, and listen to DCPS stakeholders such as El Comite and the Chancellor's Parent Advisory Board, internal staff engagement and partnership strategy and support for all 118 schools.
Prior to joining DCPS in 2013 as the Chief of Staff for the Office of Engagement and Partnerships, Sarah served as the Director of Operations for Community Impact at United Way Worldwide and served on Mayor Adrian Fenty's Cabinet as the Director of Community Affairs and Director of the Mayor's Office of Community Relations and Services. Sarah's entry into DC Government was in 2003 as a Capital City Fellow and soon thereafter she served as Special Assistant for Food and Nutrition Services at the State Superintendent's Office.
Sarah holds a Bachelor of Science in Human and Organizational Development from Vanderbilt University and a master's in public administration with an emphasis on social policy from the University of Maryland. Sarah represents DC Public Schools on the District Leadership Network for the Institute for Educational Leadership where she serves as a key advisor for national family and community engagement policy and strategy.
Sarah is a proud Native Washingtonian and graduate of DC Public Schools.