Established in 1992, The District of Columbia's Community Service Requirement aims to equip students with the necessary skills and abilities for career and educational advancement as well as motivate students to take an active role as leaders in their communities. DC Municipal Regulations require at least 100 hours of volunteer community service in order for students to graduate.
Students must complete community service hours through a 501(c)(3) organization or a federal, state, or local agency. Students must also properly document their community service hours by submitting a signed, complete community service form to earn community service hours that count towards the graduation requirement.
Please contact your School Counselor, School-based Community Service Point of Contact, or [email protected] for additional information regarding earning community service hours.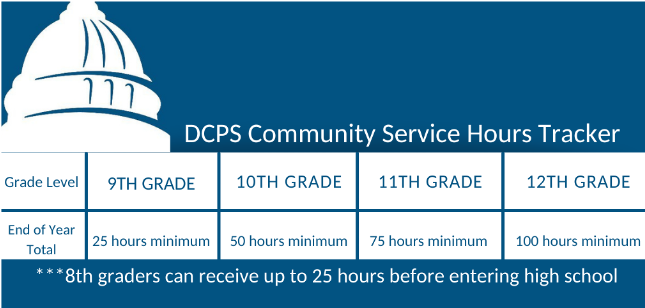 DCPS Community Service Hours Tracker
9th Grade: 25 hours minumum
10th Grade: 50 hours minimum
11th Grade: 75 hours minimum
12th Grade: 100 hours minimum
*8th graders can receive up to 25 hours before entering high school.
Find Community Service Opportunities
Learn More About Volunteering and Community Service
Keep up with us on Twitter.
Have a great community service opportunity? Contact us.
Community partners interested in sharing community service opportunities with DCPS students should email the School Counseling Team at [email protected]. All community service opportunities must come from or partner with a 501(c)(3) organization, federal, state, or local government agency.
If your organization has additional questions about community service, please review the FAQ for organizations[PDF].