In order to accelerate outcomes for our students furthest from opportunity, DCPS launched the Connected Schools Model in School Year 2019-2020. Through this investment, 10 schools across the city will become resource hubs in their community to meet our students' and families' needs in and out of the classroom.
Connected Schools take a whole child, whole school, whole community approach by making schools spaces that support not only a student's academic development, but a family's overall wellbeing through access to resources related to health, employment, housing, and more. This model builds on the full-service community school model and is grounded in national research and educational best practices.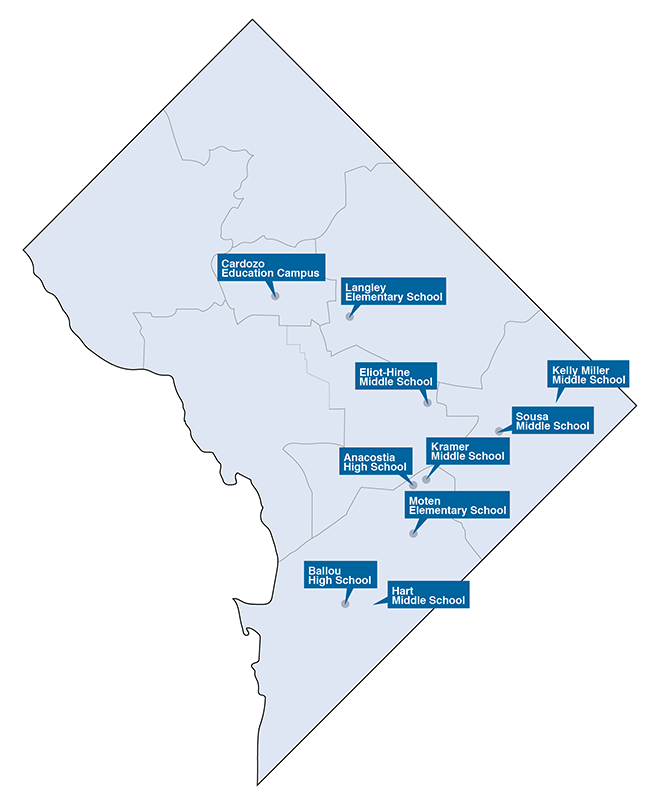 What is a DCPS Connected School?
Connected Schools are schools that partner with the community to provide an integrated approach to academics, health and social services, youth and community development, and community engagement in order to ensure all students, regardless of background or neighborhood, are able to thrive in school and in life.
This might look like:
Anacostia High School conducting relationship-building home visits with students and their families;
Eliot-Hine Middle School partnering with local organizations to provide out-of-school experiences aligned with the IB curriculum;
Kramer Middle School providing twice monthly food bank opportunities for families; and
Moten Elementary School increasing restorative justice practices through the Tribes Learning Community process.
What supports do Connected Schools offer their communities?
The Connected Schools Model has 5 key elements describe below.
Connected School Manager Role: The Connected School Manager is a full-time school-based employee that serves on the school's leadership team and drives implementation of the Connected School Model. Connected Schools Managers facilitate student and family access to services and resources that set students and communities up for success.
Healing-Centered Practices: Schools utilize healing-centered approaches in and out of the classroom, with structures in place to recognize the impact of trauma.
Authentic Community and Family Engagement: Schools have a student and family-centered mindset and create ongoing opportunities for students, families, and community members to inform school decision making.
Strong Student Support Systems: School-based teams ensure students receive the necessary interventions, avoiding duplication of services and maximizing partner resources.
Place-Based Services: Schools are neighborhood hubs where students and families can connect to a variety of services and programs from housing to employment.
What schools are Connected Schools?
In School Year 2019-2020, 10 schools are implementing the DCPS Connected Schools Model. At 5 of these schools, DCPS is partnering with Communities in Schools of the Nation's Capital to implement these supports. Learn more about each school's Connected Schools Manager below!
Where I can learn more?
For more information on DCPS Connected Schools, please email [email protected].
To learn more about community school efforts across the country, visit the Coalition for Community Schools at www.communityschools.org.