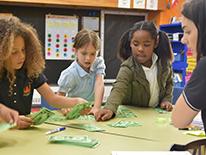 In School Year 2020-2021, afterschool programs managed by the Out of School Time Programs (OSTP) will be offered in 55 schools. Schools not participating in OSTP afterschool programs may offer their own programs to students. Please contact your student's school for more information.
In light of the recent update to announce further details about the DCPS 2020-21 school year on July 31, our DCPS Out of School Time Programs (OSTP) afterschool registration will also be delayed. We are committed to a safe return to learning for every student and appreciate your understanding with this change as we continue to work through our plans for School Year 2020-21.
Until then, if you have further questions please contact: [email protected] or the OSTP phone line: (202) 442-5002
Afterschool Program Description
What do afterschool programs offer?
DC Public Schools (DCPS) afterschool programs allow students to participate in academic and extracurricular enrichment activities and to develop new hobbies and skills. DCPS teachers, paraprofessionals, and community-based organizations provide a variety of unique programming options to students.
Participation in high-quality afterschool programming has been proven to improve school attendance, academic achievement, graduation rates, and attitudes toward learning. Students attending two and a half hours of afterschool programs each day gain the equivalent of nearly two months of learning time.
What are the afterschool program hours?
The afterschool program starts at the end of the school day and ends at 6:15 pm each full school day (unless otherwise noted by your school).
What grades can participate?
Programs serve students in PK3 through grade 5 at elementary schools and PK3 through grade 8 at education campuses.
Is food provided?
Supper/snack is provided to all students free of charge.
How do I register my student?
Afterschool enrollment for all families will take place online. Families who visit the online enrollment system can expect to have a customized experience based on your child and the school he/she is attending.

You must access the online enrollment system on a computer, not a phone or mobile device. If you lack access to a computer, computers will be available at your school for use during the enrollment period from 9 am to 3 pm. DC Public Libraries also have computers available for public use.
Once online enrollment opens, seats will be filled on a first-come first-served basis. Seats are limited, so please enroll early.

The afterschool enrollment process has been simplified so that most families will not need to submit more documents after completing the online enrollment form.

You must have submitted your school year 2020-21 enrollment forms for the regular school day and allow two business days for the information to be updated into the system before you enroll in the afterschool program. Get more information about 2020-21 school enrollment.

No child will be permitted to start until afterschool enrollment has been confirmed.
What do I do if I have trouble enrolling?
Contact your school or the Out of School Time Programs at (202) 442-5002 to ask for assistance.
Is there a fee?
For School Year 20-21, co-payment fees will be eight monthly invoices (October 1, 2020 through May 30, 2021) of $94.50 per month for the first student, half off for the second student $47.25 and the third or more students in the same family are free. OSTP afterschool programming will remain cost-free for families that fall in one or more of the following categories:
Families that receive TANF or Medicaid will receive programming for free
Homeless students, unaccompanied minors, and any foster youth will receive free programming
Programming at middle school sites (Hart and Jefferson) is free
When families share that they cannot afford a co-pay and are able to demonstrate financial need
Families who would otherwise qualify for TANF or Medicaid but due to their legal status in the US cannot receive those benefits, will receive programming for free
Families will have the option to pay online through the current co-payment portal at afterschoolpayment.dcps.dc.gov. Certified checks, cashier's checks, and money orders are also accepted. Personal checks will not be accepted.
How is the afterschool program evaluated?
The 21CCLC Afterschool End of Year Evaluation Report presents the program objectives set by OSSE and DCPS and evaluates whether the objectives were met during each school year. In addition, the presentation contains important information about the 21CCLC grant, program demographics, key findings from the external evaluator, afterschool program strengths, and areas of focus for the next school year. Questions may be sent to Margot Berkey, specialist for the 21CCLC grant, [email protected].
For all questions about afterschool, please contact:
Out of School Time Programs: (202) 442-5002