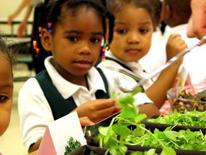 Food and Nutrition Services (FNS) supports student health and achievement by ensuring that all DCPS students receive nutritious meals that support academic success. We believe in providing appetizing school meals made from fresh, locally produced ingredients, and we strive to engage the entire DC community in implementing programs that encourage healthy decision-making and promote sustainable practices. DCPS participates in the following Child Nutrition Programs through the United States Department of Agriculture (USDA): National School Lunch Program, National School Breakfast Program, Child and Adult Care Food Program, Fresh Fruit and Vegetable Program, and the Summer Food Service Program.
Free Breakfast and Lunch Meals for all DC Youth available through School Year 2020-2021
Effective October 9th, 2020, all DC youth ages 18 and younger may receive free grab-and-go breakfast and lunch meals at DCPS meal site locations through the duration of school year 2020-2021. Meal sites will remain open even as students return to in-person learning. All DCPS students learning in-person and in CARES classrooms may also receive free breakfast and lunch at their schools. DCPS meal service locations are open every Monday to Friday from 10:00 am to 2:00 pm, except holidays. You can view the most up-to-date list of open meal sites, along with the menus here. Additional food resources and meal site addresses can be found here.
During school year 2020-2021 youth are not required to be enrolled as DC Public School students to receive meals at open meal sites. To limit the number of trips families need to make to meal sites, youth, or parents/guardians on their behalf, can receive up to 3 breakfast and 3 lunch meals at a time. Meals consist of an entree, fruit and/or vegetable serving, and milk.
If your student requires dietary accommodation for medical, food allergy, or philosophical reasons, please complete a dietary accommodation form. More information can be found here.
Though all meals will be served free of charge, we encourage families with children who do not attend a CEP school to complete the Free and Reduced Meal (FARM) application. More information can be found here. Paper FARM applications can be picked up and submitted at any open DCPS meal site.
Pandemic-EBT Update for DCPS Students (4/9/21)
For all questions related to the DC Pandemic Electronic Benefits Transfer (P-EBT) program please visit the P-EBT webpage and complete the webform to contact the Department of Human Services. Information about funds distributed from October 2020 to present is not yet available. The District's P-EBT plan has been approved by the federal government but the start date for benefits issuance has not been communicated. To ensure the P-EBT card is received quickly once they become available, families should contact their school to make sure their current mailing address is on file.
Though all meals will be served free of charge for DCPS students learning in school and at open meal sites for SY 20/21, we encourage all families with children who do not attend a CEP school to complete the FARM application as soon as possible to ensure maximum P-EBT benefits are received once they become available.
We believe everyone deserves to be heard. Please submit feedback, comments, or questions to Food and Nutrition Services.
Interested in speaking with one of our five Registered Dietitian Nutritionists (RDN) on staff, who are the leading experts in food and nutrition? Email us at [email protected]. We look forward to connecting with you and your family!
USDA Nondiscrimination Statement
District of Columbia Human Rights Act
DCPS Food and Nutrition Services Contact Information
For more information contact Robert Jaber at [email protected]