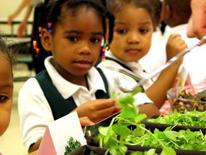 Food and Nutrition Services (FNS) supports student health and achievement by ensuring that all DCPS students receive nutritious meals that support academic success. We believe in providing appetizing school meals made from fresh, locally produced ingredients, and we strive to engage the entire DC community in implementing programs that encourage healthy decision-making and promote sustainable practices. DCPS participates in the following Child Nutrition Programs through the United States Department of Agriculture (USDA) as administered by the Office of the State Superintendent of Education (OSSE): National School Lunch Program, National School Breakfast Program, Child and Adult Care Food Program, Fresh Fruit and Vegetable Program, and the Summer Food Service Program.
Complimentary Meals for all DCPS students available through school year 2021-2022!
DCPS food service will operate under the Seamless Summer Option for school year 2021-2022 as allowed by the USDA under emergency legislation to aid in the covid-19 recovery. This means that students at all DCPS schools will receive complimentary breakfast and lunch, plus snack and supper where applicable for the entire 2021-2022 school year!
Though all meals will be served free of charge in SY 21-22, we encourage families with children who do not attend a CEP school to complete the Free and Reduced Meal (FARM) application as soon as possible to ensure eligibility for other benefits.
Pandemic-EBT Update for DCPS Students (updated 6/1/21)
For all questions related to the DC Pandemic Electronic Benefits Transfer (P-EBT) program please visit the P-EBT webpage or call the DC P-EBT call center at 1-877-4DC-PEBT.
If your student requires a dietary accommodation for medical, food allergy or philosophical reasons, please complete a dietary accommodation form.
We believe everyone deserves to be heard. Please submit feedback, comments, or questions to Food and Nutrition Services.
Interested in speaking with one of our five Registered Dietitian Nutritionists (RDN) on staff, who are the leading experts in food and nutrition? Email us at [email protected]. We look forward to connecting with you and your family!
USDA Nondiscrimination Statement
District of Columbia Human Rights Act
DCPS Food and Nutrition Services Contact Information
For more information contact Robert Jaber at [email protected]