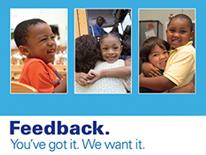 DCPS recognizes its role as an integral part of our community. In that role, we value your input and have provided several ways for you to give us with your opinions or ask questions on a range of topics.
Grade DC - DCPS Performance
This program enables you to submit comments about DCPS and view how District residents graded us. The goal is to help you better engage with DCPS and help us to improve the quality of our services.
Common Core Standards

Food and Nutrition Services

Engage DCPS

Satisfaction Stakeholder Surveys
DCPS periodically holds Stakeholder Surveys to obtain valuable information from our students, parents, educators and other DCPS staff to measure satisfaction with our schools. If you have questions about the surveys, please call toll free 1-855-490-9650.
Ask the Chancellor
As always, Chancellor Ferebee welcomes your questions or comments. Use this form to submit and you'll receive a response.