Adult Meals
Parents, visitors, and school staff: come dine with us!
2023-24 Adult Meal Prices
Adult breakfast - $4.00
Adult lunch - $5.00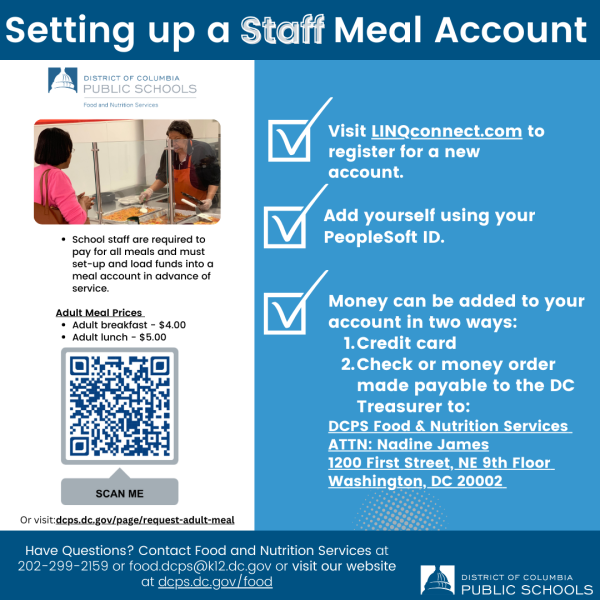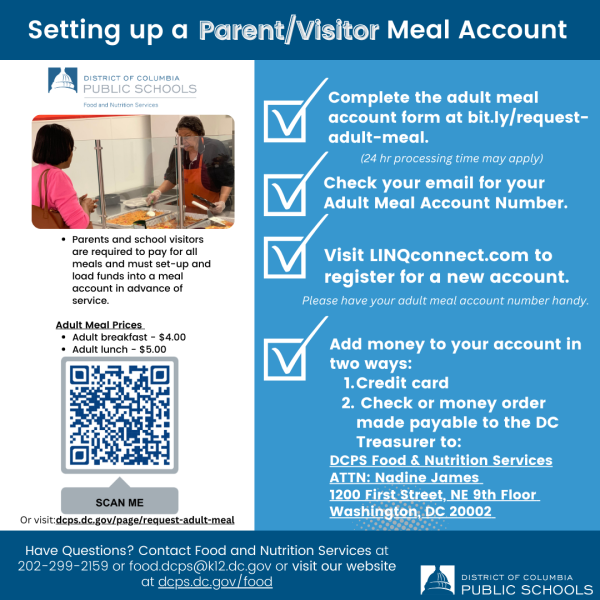 Parents/Visitors:
Step 2: Check your email within 1-2 business days.
Staff Balance Transfers
Balances from matched staff accounts will automatically transfer from MySchoolBucks to LINQConnect. If you had funds on a MySchoolBucks account AND do not see your transferred balance after October 10, 2023, please see below for directions.
---
Request a Refund or Funds Transfer to LINQ Connect
Please complete this DCPS Adult Meal Account Refund and Transfer Form to request one of the following transactions:
Request a refund
Transfer an existing balance to a:

DCPS Student account
DCPS Staff account, or
New, Adult (Visitors) account in LINQ Connect.
IMPORTANT: Please have your MySchoolBucks ID number available to assist FNS in identifying your old account. After September 30, 2024, all remaining MySchoolBucks balances will be converted to a donation to assist with student meal debt. Refunds and transfers within LINQ Connect will remain available.