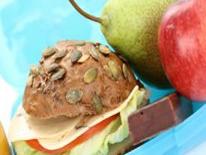 Free and Reduced-price Meal (FARM) Application
Children need healthy meals to learn. DC Public Schools offers healthy meals every school day. DCPS participates in the United States Department of Agriculture (USDA) Child Nutrition Programs (CNPs) and adheres to the nutrition and meal guidelines established by the USDA and the DC Healthy Schools Act. Our schools participate in the National School Breakfast Program, the National School Lunch Program, and the Child and Adult Food Care Program.
Breakfast is free to all students; lunch costs $3.00 for all students; and afterschool meals (provided at select schools) are free to students at these select schools. Your children may qualify for free lunch meals.
Many students qualify for free lunch, your student may qualify through one of the following ways:
For School Year 2020- 2021, 87 of our schools qualify for free lunch under the USDA Community Eligibility Provision (CEP). To see a list of these schools, please visit: dcps.dc.gov/page/community-eligibility-provision-cep-schools
At our remaining schools, DCPS students may qualify for free meals in one of the following ways:

All children in households receiving benefits from the Supplemental Nutrition Assistance Program (SNAP), the Food Distribution Program on Indian Reservations (FDPIR), or Temporary Assistance for Needy Families (TANF), are eligible for free meals.
Foster children that are under the legal responsibility of a foster care agency or court are eligible for free meals.
Children who meet the definition of homeless, runaway, migrant or categorically eligible are eligible for free meals.
DCPS students whose household's gross income is within the free or reduced limits on the Federal Income Eligibility Guidelines must complete a Free And Reduced-price Meal (FARM) Application. One FARM application should be completed for all students in a household, even if the students attend different DCPS schools.

DCPS only accepts FARM applications for DCPS schools, if you or your child attends a charter or private school, please reach out to the school directly.
Pandemic-EBT (updated 6/1/21)
For all questions related to the DC Pandemic Electronic Benefits Transfer (P-EBT) program please visit the P-EBT webpage or call the DC P-EBT call center at 1-877-4DC-PEBT. Families should contact their school to ensure their current mailing address is on file, including apartment number if applicable. We encourage all families with children who do not attend a CEP school to complete a FARM application as soon as possible to ensure maximum P-EBT benefits are received.
All FARM applications for SY 20-21 must reflect current income. See below for income guidelines:
Household Size

Maximum household income amounts

Annual

Monthly

Weekly

2

$31,894

$2,658

$614

3

$40,182

$3,349

$773

4

$48,470

$4,040

$933

5

$56,758

$4,730

$1,092

6

$65,046

$5,421

$1,251

7

$73,334

$6,112

$1,411

8

$81,622

$6,802

$1,570

Each additional family member

+$8,288

+$691

+$160
USDA Nondiscrimination Statement