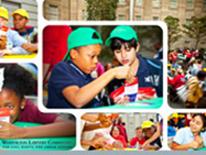 At DC Public Schools, we define a partner as an organization or group that is committed to work with DCPS to make sustainable impact on a shared goal around student success.
Across the district, we have community partners in our schools that provide their time, resources or financial support. We believe that partnerships are an integral component to school and student success and we are fortunate to have partners who sponsor school initiatives, invite students to events and implement valuable programs.
Please see below for partnership resources for partners and schools.
Partner Resources
Access information for partners here, including:
How to become a DCPS partner
Building-use procedures for DCPS partners
Data-Sharing Agreements
Hosting a summer program at a DCPS school site
School Resources
Get information here for DCPS school-based staff on resources to support partnership strategy in your schools, tools to track and find new school partners, and links to additional best practices and policies.
View DCPS School Program Providers
View registered School Program Providers that have opted to have their information be searchable to users. Please note that this is not a comprehensive list of all DCPS partners, but rather a representation of registered School Program Providers that have opted to be searchable to the public.