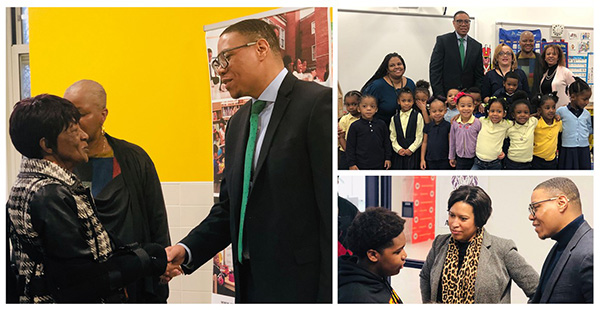 Join Chancellor Ferebee's Twitter Town Hall
On February 12 from 12 – 1 pm EST, DC Public Schools Chancellor Lewis Ferebee will host a Twitter Town Hall to answer your questions on the district's progress.
It's important that we hear from voices across the DCPS community. If you are a student or are unable to join in the Twitter Town Hall, submit your question in advance using this form.
Follow @DCPSChancellor on Twitter to join the conversation and be sure to use #DCPSProgressPride. You can also read Chancellor Ferebee's latest message to our school community — DCPS Progress and Pride: A Capital Commitment Update.
During the first several months of his time at DCPS, Dr. Lewis D. Ferebee introduced himself to the DCPS community in a variety of settings, from morning drop-off at schools to evening PTA and LSAT meetings. See below for a list of engagements that Dr. Ferebee has attended across the city.