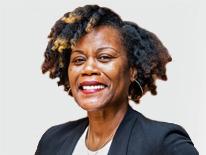 A lifelong learner, Dr. Drewana Bey has pursued a career of service, with the mission to interrupt and eliminate inequities in public education that create barriers for children and communities of color within the Washington D.C Metropolitan Area. A native of Prince George's County, Maryland, Dr. Bey has been an educator for over 24 years. After obtaining her bachelor's degree from the University of North Carolina at Charlotte, she started her career as a middle and high school science teacher, working to equip her students with the knowledge and skills needed to pursue STEM fields of study and careers. Because of the influence of several dynamic educational leaders she encountered as a lead teacher, Dr. Bey was encouraged to pursue educational administration and received her Masters of Science degree in Educational Administration from Trinity University of Washington, DC and a Doctorate in Educational Leadership from Bowie State University. Dr. Bey went on to become a high school principal, where she led the largest high school in the state of Maryland in 2011. Under her leadership, the school had it highest gains in graduation rate, attendance, and Advanced Placement achievement, particularly for Black and Latino students.
In 2016, Dr. Bey came to DCPS as an instructional superintendent of high schools, which saw continuous gains in PARCC achievement, 9th grade promotion, and Advanced Placement participation and proficiency rates. She has continued her commitment to the work of improving opportunities and outcomes for secondary students, most recently serving as the Chief of Secondary Schools. As chief, and in spite of a worldwide pandemic, secondary schools continued to experience increases in 9th grade promotion as well as graduation rates, and advanced placement participation.
Dr. Bey's unwavering belief in the brilliance and talent of DCPS students and staff is what anchors her commitment to K-12 public education.