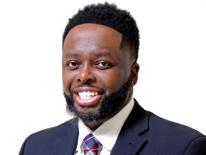 Dr. Harold McCray will lead MacArthur High School as the founding principal for the 2023-2024 School Year.
Harold McCray, Ed.D. is a veteran educator with more than 18 years of experience. His deliberate focus on student achievement ensures that every child receives a high-quality education. Dr. McCray believes that all students can learn and must have access to instruction that provides high expectations and academic rigor. His educational experiences have afforded him the opportunity to collaborate with diverse groups of people who understand the value of an education and prioritize the social-emotional well-being of all students.
Dr. McCray began his career teaching middle school mathematics in Prince George's County Public Schools. He also served as an instructional coach and assistant principal. Additionally, he served as a principal in both elementary school and high school before transferring to DCPS to serve as principal of Stanton Elementary School.
Under his leadership in high school serving over 1800 students, Dr. McCray maintained over a 90% retention rate for 9th graders, increased dual enrollment, and oversaw the district's only Aerospace Engineering & Aviation Technology Program. In his role as an elementary principal, he has significantly decreased the number of students reading well below grade level through the implementation of the Science of Reading.
Dr. McCray received his Bachelor's degree from Delaware State University and his Master's degree from Bowie State University. He also earned his doctorate in Educational Leadership from Walden University. Originally a Philadelphia native, he moved to the DC Metro area with his wife and two daughters.
See more new principals for SY 23-24!