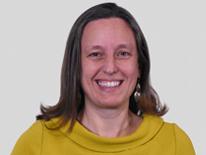 Corinne (Corie) Colgan is the Chief of Teaching and Learning for DCPS, a role she has held since fall 2018, leading her team through the rapid shifts to online learning and helping solidify current approaches to academic acceleration. For over 13 years, Corie has served in multiple leadership roles on the DCPS central services team including Deputy Chief of Literacy and Humanities and Senior Deputy Chief of Content and Curriculum. Most notably, Corie led the effort to roll out the Common Core State Standards in ELA and played a key role in the launch of DCPS' innovative, equity-centered and joyful learning assignments, Cornerstones. Her work now spans all K-12 Content areas, Educational technology, Specialized Instruction, Language Acquisition, Professional Development, Advanced and Enriched Instruction, Summer School and Afterschool programming.
Prior to joining the team at DCPS, Corie had over a decade of experience in the educational space, working as an English and French teacher at the middle and high school levels, a literacy coach and an assistant principal. She has worked primarily in alternative settings including Maya Angelou Public Charter High School in DC and as founding director of a campus of Citizen Schools, an experiential educational out of school time program for middle school students. She was also a founding faculty member Hyde Leadership Public Charter in Washington DC, after getting her start in education at the Hyde Schools' Woodstock, CT campus.
Corie has a Bachelor's degree in English and French from Bowdoin College and a Master's in Educational Leadership from the Harvard Graduate School of Education.
Corie is passionate about equity, especially when it comes to literacy and access to engaging, rigorous and meaningful learning opportunities. She is committed to changing the narrative of urban education and is proud to be working on rewriting it in Washington DC. Corie lives with her husband and three daughters in DC and is the proud parent of three DCPS students.