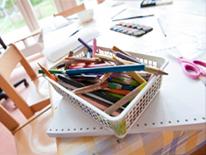 We welcome your support. Donations from valued community partners support our efforts to provide a high quality education to students in our nation's capital.
We are most in need of new items that support our instructional efforts. Some examples of the types of items we would appreciate are:
School supplies (pens, pencils, notebooks, crayons, and glue)
Small portable white boards and dry erase markers
Art supplies (paper, brushes, assorted paint, chalks)
New books (for school libraries, class libraries and students' personal libraries)
Books on tape
Globes and maps
Calculators, geometry tools, graph paper, math manipulatives
Interactive white boards
Sports equipment
Cameras (digital and disposal)
Flash Drives
Computers (See Computer Donation Guidelines)
If you have something you think we can use, tell us about your donation.