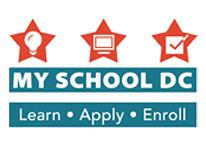 The My School DC lottery is a school-choice service provided to families interested in enrolling children in public schools within the District of Columbia, including:
A My School DC lottery application is not required to attend an in-boundary or feeder-pattern school. To identify your in-boundary and feeder schools, visit the Enrollment Boundary Information System (EBIS).
To apply, visit the My School DC lottery website at MySchoolDC.org.