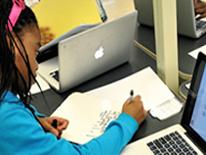 DCPS Library Programs support schools in providing a welcoming, inclusive, responsive, and open library where every student can access and utilize print, digital, and multimedia resources to inspire their curiosity, innovation, problem-solving and creation. Effective school library programs are fundamental in teaching and learning and essential to making learning relevant for all students.
DCPS library media specialists in each school are:
Instructional partners in information literacy for all content areas
Leaders in technology integration and Digital Citizenship instruction ensuring students are future ready
Passionate advocates for independent reading and student agency in creating a culture of reading every day, everywhere
Resources:
Contact Information
For questions about DCPS' library programs, email [email protected].