Smart Heating and Cooling
DCPS and DGS work together on HVAC scheduling. One easy way to save money and energy is to turn off heating or air conditioning at night. DGS can tailor thermostat schedules to save energy without impacting occupant comfort, but communication is the key to success.
To schedule HVAC coverage for a special event (back to school night, basketball tournament, community use, etc), send an Outlook calendar invitation to [email protected].
To report HVAC issues or outages, use SmartDGS.
For after hours (4:30pm-4:30am) heating and cooling issues, call (202) 438-7930 or email [email protected].

Recycle Right!
DGS leads recycling and organics composting programs for DCPS. Find resources, tips and an interactive map of schools on the recycling honor roll here.
RiverSmart Schools
DOEE offers grants for green infrastructure improvements on school sites. Learn more here.
Solar PPA for District Buildings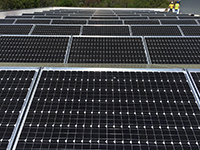 The District is installing 13.5MW of solar power on buildings across the city, including schools. Learn more here.
Going for Gold with Green Schools

DCPS capital projects meet LEED Gold or higher by law. Dunbar High School is the highest rated LEED school in the country! Learn more here.