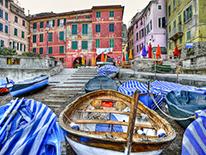 Every student deserves a world of possibilities! That's why DCPS developed a Study Abroad program. The award-winning DCPS Study Abroad is the nation's first fully-funded K-12 study abroad program; the program helps ensure that our global citizens have access to global experiences, and works to make travel the expectation rather than the exception for all students. Select DCPS students in Middle School and High School studying a world language are eligible for short-term study abroad programs focused on language immersion, STEM, cultural immersion, and/or service learning.
DCPS is going places. Come with us.
Overview
DCPS is committed to preparing students to become global citizens through immersive travel and learning experiences that align with content and enrich students' academic experiences in the classroom.
Student Experience
DCPS Study Abroad experiences provide equitable access to travel, ensuring all DCPS students can truly explore the world and place their growing global competence into real world contexts.
Middle school: Students are invited to apply for funded Study Abroad opportunities during their eighth grade year; travel will occur during the summer between eighth and ninth grade.
High school: Students are invited to apply for funded Study Abroad opportunities during their eleventh grade year; travel will occur during the summer between eleventh and twelfth grade Students in Certificate 3 special education programs and select students attending Opportunity Academies are also eligible to apply.
Program Highlights
Eligible DCPS students are invited to apply to DCPS Study Abroad each fall. Each DCPS Study Abroad trip is connected to one of the 7 DCPS World Languages, and follows one of the following pathways:
Cultural Immersion: Students explore other cultures and global issues, preparing to navigate an increasingly interconnected world as engaged global citizens.
Language Immersion: Students participate in immersive language experiences that allow them to utilize their target World Language in authentic settings.
Service Learning: Students engage in meaningful service programs that benefit communities, and provide students with an opportunity to reflect on their roles and experiences cooperating with others as a member of the global community.
STEM: Students develop global citizenship by focusing on global issues that are being addressed by science, technology, engineering, and mathematics.
All travelers assigned to international destinations must possess or obtain a passport and any necessary visas and vaccines prior to trip departure. Every student traveler is required to participate in pre-departure meetings with their trip leaders, abide by their trip's itinerary, and develop a post-travel "Making Global Local" project about their time abroad. Each student's Making Global Local project will be shared and celebrated with their school and community. Students can learn more or submit an application at dcpsglobaled.org.
Contact Information
Bianca Duphey, Director, Academic Innovations
Kirsten Hagen, Manager, Global Education
Atara Muhammad, Specialist, Global Programs