Associate Principal, School Without Walls @ Francis Stevens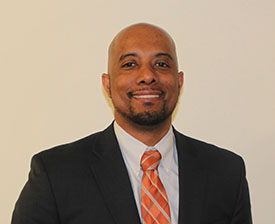 Principal Benjamin Williams served as the Associate Principal at School Without Walls @ Francis Stevens for two years. As a school leader, Principal Williams is willing to face any task or challenge in order to find ways for students to be successful. He developed a college preparatory middle school curriculum that readied students for the School Without Walls' application process and prepared them for the rigorous high school curriculum. His motivation is witnessing the joy students demonstrate when they realize they can accomplish or overcome anything that they set their minds to.
Principal Williams' understanding of the value of education and having strong mentors started at a very young age. During a difficult childhood, his teachers, administrators, and coaches were the constants in his life and they had a profound impact on his development. As a result of the discipline, courage, and drive that these mentors instilled in him, Principals Williams knew he eventually wanted to have that same impact in the lives of young people. After serving as a teacher, dean of students and assistant principal for over six years in Virginia and New Jersey, Principal Williams sought to expand his impact as a school leader in the District.
Principal Williams is currently the planning principal for DCPS' first public all-boys high school opening in the 2016-2017 school year. In this capacity, Principal Williams will continue to guide students through their struggles and successes and remain a positive role model for young people in the district.