Assistant Principal, Cleveland Elementary School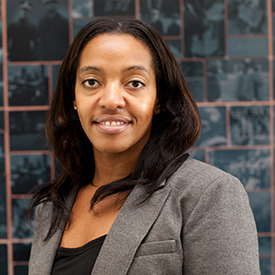 Throughout her career, Assistant Principal Crystal Gatling has always put "students first" - working to ensure that all children receive equitable access to resources and highly effective instruction. As a school leader she sees her role in service of this goal as twofold - to encourage students to put forth their best effort by taking the time necessary to build strong relationships with them, and to support teachers in improving instruction through collaboration.
Throughout her life, strong educators have motivated Assistant Principal Gatling. It was her fourth grade teacher, Mrs. Pass who first inspired her to become a teacher. "Mrs. Pass taught me reading and math skills, increased my self-esteem and developed my character by encouraging me to work to my fullest potential. She inspired me to become a teacher with the mission of making a difference for others the same way she did for me." After teaching for seven years, a former principal encouraged Assistant Principal Gatling to pursue educational leadership. Though she enjoyed connecting with students directly, she knew that becoming a school leader would allow her a platform to more broadly ensure equity in learning experiences, and provide high quality professional development that would motivate and inspire students and staff alike to grow and love learning.
She cites motivating students as one of her main objectives as a school leader, but she also notes that students also serve as her primary motivation for continuing the work. "Students' smiles, positive energy and unconditional love make working at my school a complete joy." After serving as the assistant principal at Cleveland Elementary School for six years, Assistant Principal Gatling currently serves as the assistant principal at Payne Elementary School.