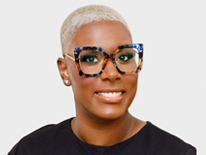 Kera Tyler is the Chief of Communications for the District of Columbia Public Schools (DCPS) where she leads the team charged with ensuring that families and residents know the amazing things happening within the district's public schools. By sharing the inspiring stories of the students, staff, and schools of DCPS, the Office of Communications seeks to improve outcomes for every student through strategic communication between and among schools, families, and the greater DC community.
Kera returns to DCPS after serving as the Director of Communications for the DC Child and Family Services Agency (CFSA) during the global health emergency. Previously, she worked as DCPS' Operations Communications Manager coordinating timely, transparent messaging around the district's day-to-day operations. With over a decade's experience leading communications work in the area, prior to joining DC Government, Kera specialized in strategic communications, crisis response, and community affairs for media outlets like Education Week and WRC-TV/NBC4 here in the District.
Kera is a proud Howard University alumna, Ward 4 resident, and DCPS parent.