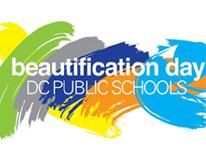 Thank You for 10 Years of Service!
Starting in 2005, DC Public Schools has partnered with volunteers, area businesses and nonprofits for an annual start-of-school Beautification Day as a way to ensure students, families, teachers and school staff arrive on day-one to a welcoming, safe learning environment. Together we have planted thousands of flowers, painted murals and helped to prepare hundreds of classrooms across the district for the first day of school.
As we look toward the future, DCPS seeks to create a way for community and school collaboration to go beyond one day of service. Toward that end, as of August 2015, DCPS no longer hosts a citywide Beautification Day. In order to meet our 2017 Capital Commitment goals and ensure student success, DCPS seeks to transform this one day of volunteerism into a long-term relationship between community partners and individual DCPS schools via the new Adopt-a-School Program.
Through the Adopt-a-School Program, DCPS will provide corporate and community organizations and individual schools with the hands-on support and tools needed to build a partnership tailored to individual school and partner goals.
On behalf of DC Public Schools, thank you for your continued support.
Learn more about ways you can support DC Public Schools- either as an individual volunteer, corporate or community organization: