In January 2016, 16 DC Public Schools from across the city received Empowering Males of Color Innovation Grants to help young men of color excel through academics, social-emotional development, and family engagement. Below are highlights from EMOC grant recipients and the stories from the young boys and men who are impacted each day. Thank you to the Charles and Lynn Schusterman Family Foundation and DC Public Education Fund for making the innovation grants possible.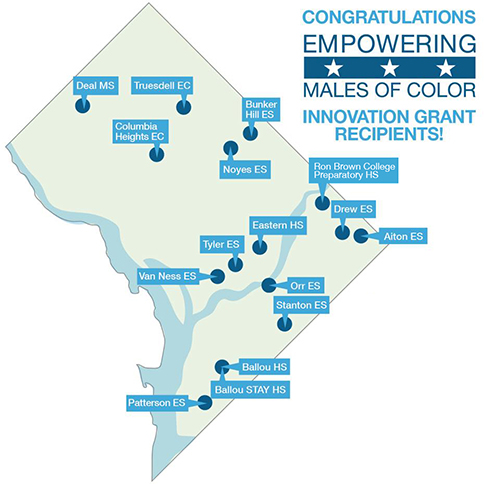 Van Ness Elementary School
Van Ness Elementary School implemented Conscious Discipline to create positive school culture. Through purposeful trainings, teachers at the school are learning how school climate supports our youngest learners. Classrooms around the school have safe spaces with calming items such as bubbles, lavender, and Feelings Buddies, to help students manage their emotions through self-discipline.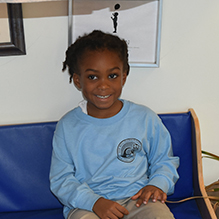 Roosevelt, 1st grade
"We use the safe spaces to calm down and then I go back to class when I'm ready to go back. The STAR is Stop, Take a breath, And Relax. It calms us. Sometimes I get mad and nothing helps me, so I need something fun to help me out. The bubbles are really fun too."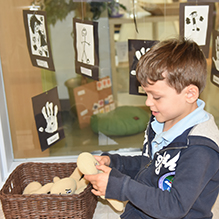 Francisco, Kindergarten
"We use feeling buddies when we're sad or happy. In the safe space, there's a chart and a timer and a book where you can see your family. It makes me feel a bit happy. We breathe in and then we let it out until the timer finishes."
Stanton Elementary School
Stanton Elementary School created The Boys Institute of Stanton (TBI) for boys in grades 3-5 to create a space within the school to develop boys characterized by lives of hope, self-discipline integrity, and love. TBI incorporates guidance from teachers, mentors, parents, and community members to help students work towards their goals, and places an emphasis on project-based learning where students are encouraged to identify problems that they want to address in their communities, conduct research, put a plan together, and then execute that plan.
Zakari, 4th grade
"Afterschool in the Boys Institute, we do our homework together so we don't have to do it at home. On Wednesdays we gather with Mr. Pollard. He didn't just pick good people. He picked people who needed self-discipline. We help our brothers, we keep them cool, and we help them when they're feeling down or doing the wrong thing. We're all kings and we have our jackets that nobody else has."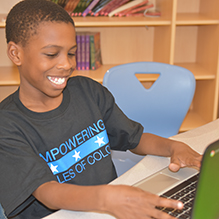 Taivion, 4th grade
"First I got a paper, and I read it. It said The Boys Institute, and I got so excited that I started jumping around the house. This is an opportunity. You don't have to be in it. It's a privilege. To me, Mr. Pollard is just like my big brother. He taught me everything I need to know about being a black man. I want to be known for many great things I do in the world."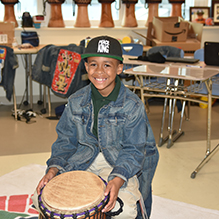 Elijah, 3rd grade
"Mr. Pollard calls us kings. "Peace King" stands for being your brother's keeper. It means to take care of your brothers, and it's important for keeping your community safer. The Boys Institute is a lot of fun. You get to play the drums and do activities."
Patterson Elementary School
Patterson Elementary School's B.R.O.S. (Brothers Reaching Outside Stereotypes) are a group of students in grades 2-5 exploring music production, video production, photography, and theatre, all through a literacy and cultural arts lens. The school brings in visual artists from the community to work with students on creative projects with the goal of bridging young boys' love and appreciation of the arts, sports, and entertainment to future career pathways.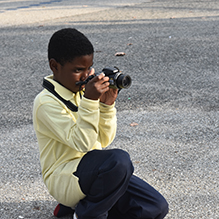 Joshua Thompson, 3rd grade
"I've been a photographer ever since I was in second grade. I learned from Mr. Garnett and he taught us about low angle and high angle. I took photos of the building, patterns, the stars and fish, and backgrounds. I think I know it all. I want to show people how good I am at taking pictures. When I grow up, I want to be a photographer."
Naquan, 3rd grade
"I first got stuck on photography when I saw it in a video and it seemed interesting. That's how I got into boys empowerment. My favorite part is being able to get out and be active. My favorite photos are the kind where it's not too blurry and it has good action and drama. Now at home when my dad does something dramatic, I grab my phone and take a camera photo. This is one of the best pastimes you could have. It takes away about 2 hours and 30 minutes…but with fun."
Ballou High School
Ballou High School created the Brilliant Brotherhood of Ballou (BBB) to bring young men together to foster relationships. The 9th and 10th grade academies offer one-on-one support for a small group of young men who take courses together, go on camping trips and college visits, and participate in afterschool programming and activities outside of school. BBB is designed to motivate students in their academics, attendance, personal growth, and planning for post-high school success.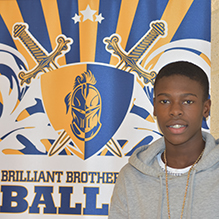 Deonte, 9th grade
"The Brilliant Brotherhood of Ballou is a big opportunity for me. It's teaching young men how to take care of responsibilities and priorities. One thing that motivates me for this program is that it keeps us level, out of trouble, and occupied. They encourage us to keep working and stay focused. They want you to succeed in life and they want you to get ready for college. That's why we take AVID classes. We go on college field trips and visit the programs to see what it's all about. Basically you want to make your parents proud of you by getting good grades and putting forth the effort."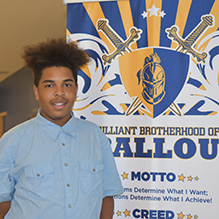 Josh, 10th grade
"I came to Ballou and found out about the boys program. It's actually been better with academics, my grades, and the social aspect. We went to the Kennedy Center and heard about how we as black males can better ourselves. It's a wake-up call to be honest. It could help if you really listen and put all your thought into what they're saying. They take their time with us and try to see who we all are and what we're capable of. One thing I enjoy about the program is that the teachers really do care."
Eastern High School
Eastern High School's 100 MORE (Mentoring Others, Raising Expectations) provides opportunities for 11th and 12th grade young men to mentor one another and find a mentor in an adult in their life. Through service learning opportunities, international and domestic travel, empowerment conferences, and professional workshops students are motivated to lift up others and to strive for success as leaders in their communities.
Elijah, 11th grade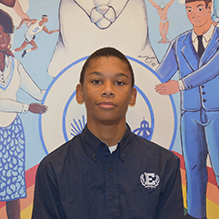 "The mentoring program 100 MORE Eastern Men of Excellence is a great program, especially for men looking for an adult in the school to turn to when they don't feel that they're being treated fairly or if they feel they need a shoulder to lean on. I've learned how to go through an interview, how to tie my own tie, how to communicate in ways other than violent ways, and how to think critically about what's going on in my community. I carry myself with a certain sense of pride, but also being very humble about everything that I do."
Alonzo, 11th grade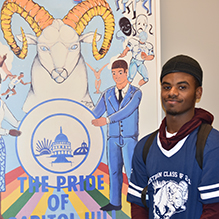 "9th grade year I wasn't really involved in this mentoring program, but once I started 10th grade I got into it, and I started making better decisions. It helps me to help others and make sure my friends are doing the right thing. I think my favorite part is traveling and helping people. The Jamaica trip was fun because we were helping this orphanage, and it made me feel extremely grateful for what I have. When I helped them, I liked the smiles they had on their faces because they didn't really get a lot of visitors."
Columbia Heights Education Campus
The CHEC Bellmen program facilitates the physical, mental, financial, spiritual, creative, and social development of young men at Columbia Heights Education Campus. Through organized events and themed activities on everything from computer science to business, participants collectively experience growth in each of these areas. Students participate in The Bellman Challenge, a one-year sequence of tasks and goals, which grant them access to rewards and privileges when complete.
Brandon, 12th grade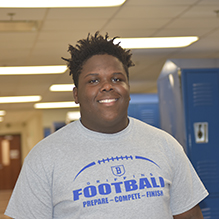 "Mr. Hardmon brought in a football player, and he showed us that education is key and education comes first. Football is not going to always be there, so you need something to fall back on. I plan to go to a four-year university where I can study pre-med, or mechanical or electrical engineering. It's a field where not a lot of minorities are in that workforce. I feel that I can set the way for other people and tell them that we're here too, we know how to do these things, and we can make it in the world. I just want to say watch out. This program is on the rise and we're going to do big things."
Juan, 12th grade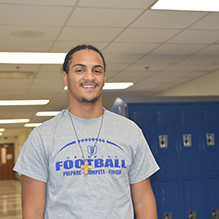 "Of course I want to go college. That's one of my dreams. I want to play college sports like football or baseball. I also want to start my career as an architect. CHEC Bellman is helping me with the financial program they have and mentors. CHEC Bellman is a group of diverse students. They come together to mentally prepare each individual for their future. The CHEC Bellman group also has a mentor for helping you get mentally and physically strong. He tells us what to do and how to maintain your body."
Alex, 12th grade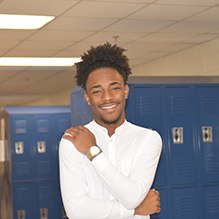 "When I graduate from high school I want to go to a four-year college. I want to do computer science. That's my field. Computers and technology you use in everyday life, so everywhere you go you can get a job. I want the outside people to look at us like we're young men that have manners, and young men that are going to be successful, and young men that can be picked to go to college, NFL, or MLB. I think that we are going to get somewhere. In some years, you're going to see us on TV."