Thursday, November 7, 2013
A celebrity walked into Turner Elementary School on Tuesday, October 29. He was red. He was furry. And he was ready to promote reading—big time. His name was Clifford the Big Red Dog, star of the popular Clifford book series.
Clifford was there to lend a hand at Family Literacy Night. His first task was helping teachers read aloud to a group of students. Afterward, children of all ages flocked to the tall canine. Parents snapped photos on their phones. A boy held tightly onto Clifford's large paw, and Clifford gently rested his other paw on the boy's head.
It was just one snapshot of a spectacular evening devoted to the love of reading.
Nearly 300 Turner students and family members attended the event, jointly coordinated by the Turner staff, Scholastic, Inc., and DCPS.
The read-along was just the beginning. Afterward, Principal Robert Gregory invited families to attend age-specific classrooms where they could learn techniques on how to nurture a love of reading and learning in their children.
In the Pre-K classroom, parents watched teachers model ways to engage with young ones while reading a book—asking questions about the story, and connecting the story with their personal experiences. For example, a book about the fall season was the platform for parents to ask their child questions such as, "What is your favorite thing about fall?"; "What color do the leaves turn in the fall?"; and "What do you like to do with pumpkins?"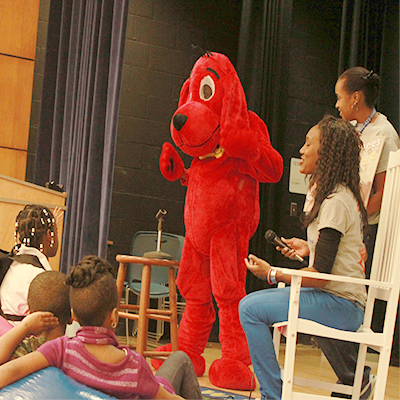 Parents also received tips about helping children learn during their daily routines--such as finding items for them to count and read at a grocery store.
In the second grade classroom, students excitedly answered questions about Tar Beach, a book about a girl's dream adventures. Students excitedly raised their hands to discuss questions like, "What was real in the book, and what was imagined?"
After the rotations, families spilled into the gym to collect their free books while students scribbled their favorite titles on a giant banner. The café-torium (cafeteria + auditorium) was full of families enjoying dinner and watching children jump and dance to the live music.
The evening was capped off with a grand raffle—Principal Gregory called numbers and one by one, triumphant parents and children ran to the stage to grab their gift—a big package of books.
Later on, Principal Gregory reflected on the success of the night. He recalled watching families line up in the hall to enter the packed classrooms. To see parents and so many in the community come out that evening, he said, was "exceptionally humbling."
One of those parents was Wilson Liriano, parent of three children who attend Turner. Before the Literacy Night, he said, his family usually spent evenings watching television. But now? "Instead of TV, we've been reading books every night. And the kids love it."