Wednesday, April 22, 2015
Story courtesy of the DC Department of General Services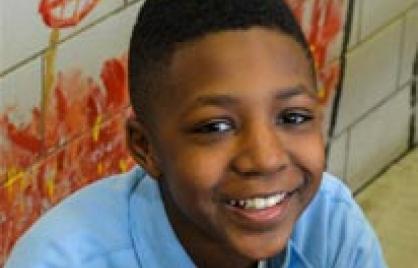 On Earth Day, the DC Department of General Services (DGS) released the DCPS Recycles! Honor Roll recognizing 48 schools for enthusiasm and excellence in recycling.
C.W. Harris Elementary School, in the District's Ward 7, is one of 21 schools honored "with distinction" for exceptional performance in organics recycling. The DCPS Recycles! team visited C.W. Harris to document some best practices to share with other schools. This is what we found:
Step through the front doors of C.W. Harris Elementary School and you may notice a few things - on the wall hangs a hand-drawn illustration of the Earth filled with art supplies that reads "Connecting and giving back to the Earth through Arts."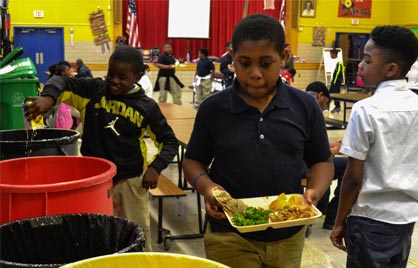 Peek down the hallway and you will notice maintenance staff gathering the recycled milk cartons discarded in the classrooms where younger students eat their meals. This innovation was developed by Mr. William Israel and his maintenance team. "Eating in classrooms is a major challenge for the whole recycling program– thanks to Mr. Israel and his team for developing a solution we can now share with other schools," said Beth Gingold, Schools Conservation Coordinator, DC Department of General Services.
You will see students sorting their lunch waste into colored bins – food leftovers going in a yellow bin, milk cartons being emptied and then placed in a recycling bin, and plastic wrappers and utensils going in a gray trash bin. You may see Mr. Kelly from the maintenance team reminding students how to sort properly, or a student helpers providing assistance to their classmates. Through consistent participation and collaboration of both staff and students, C.W. Harris has created an exemplary cafeteria recycling program.
You will also see a school-wide effort to reduce, not just recycle food waste! Behavior Tech Mr. Welton Howard supervises the cafeteria. "If you aren't going to eat your fruit, save it for the team" has become part of his daily rhetoric as he collects any whole fruits that students don't want during meal time. "We decided to collect the fruit before it was discarded and at the end of the day we redistribute the fruit to the sports team for a healthy snack. Needless to say, after a long day of learning and physical activity most of the fruit that was saved is greatly appreciated by our students," said Mr. Howard.
"The recycling waste/reduction initiative here at C.W. Harris has had a great and positive impact on our entire student body and school community… It has fostered a spirit of cooperation and team work. Students who experience serving as leaders in their school take more responsibility for their homes, then their communities. We are planting the seeds of future leaders in our community!" notes Principal Heather Hairston.
To learn more about the DCPS Recycles Program see http://dgs.dc.gov/page/healthy-schools.
To check if your school is on the DCPS Recycles! Honor Roll see http://dgs.dc.gov/page/dcps-recycles-2015-honorees.