Tuesday, December 17, 2013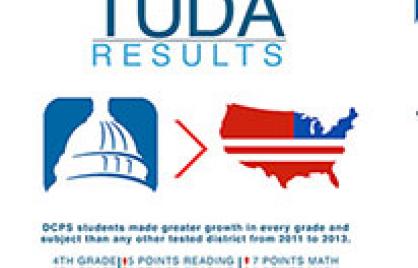 What is TUDA?
TUDA stands for Trial Urban District Assessment.
Every two years, randomly selected students take the National Assessment of Educational Progress (NAEP). This exam is administered by the federal government. It gives a snapshot of how much progress each state is making in educating their students.
NAEP results were announced in early November and the results are broken down by state, which in DC means data from both DCPS and charter schools. DC made tremendous gains on the NAEP from 2011 to 2013.
TUDA takes the exact same data about student performance from the NAEP and breaks it down to just DCPS.
What does it measure?
TUDA shows how fourth- and eighth-grade students in DCPS do in math and reading.
Why does it matter?
TUDA tells us how we're doing relative to other districts, including urban and suburban, in the nation.
How did my child do?
TUDA reports are provided at the district level only. Students do not receive individual reports. This means that DCPS will receive ONE report only for all schools.
How does TUDA affect DCPS in the future?
DCPS analyzes the results to reflect on where we have made gains and also to identify areas for improvement.