Thursday, November 8, 2012
DCPS Four-Year Graduation Rate Increases Slightly
A higher percentage of students graduated from DC Public Schools' (DCPS) high schools in 2012 than in 2011, according to data released today by the Office of the State Superintendent of Education. Per this data, this year's graduation rate, known as the adjusted cohort graduation rate or ACGR, is 56 percent. ACGR is calculated by following a cohort of rising ninth-grade students to determine the percentage that receive a regular diploma within four years.

"Our graduation rate is holding steady, but we can and should do better," said DCPS Chancellor Kaya Henderson. "Overall, there is room for significant improvement. I'm proud of the schools that made gains and, specifically, I want to applaud Luke C. Moore for the school's tremendous growth. Luke C. Moore's success shows that when given the right supports, all of our students will graduate."

At Luke C. Moore High School, an alternative DCPS secondary school, the four-year graduation rate rose by 12 percent from 2011 to 2012. This is the largest increase for any DCPS high school this year. Luke C. Moore serves disengaged youth ages 17–20 who have dropped out of high school, may have adjudication issues, or have had difficulties in traditional school setting. Principal Azalia Hunt-Speight credits this impressive jump to establishing a focus much more on a student-centered and student-supported climate and culture.

Creating that culture allowed the faculty and students to acknowledge that the traditional systems for earning credit and moving toward graduation was not going to work for their students, who were already four or five years behind in their grade level.

In the 2010-2011 school year, Luke C. Moore implemented a non-traditional, accelerated master schedule and made available online learning, evening credit recovery and portfolio-based classes. These efforts helped meet students' needs and set clear expectations. In addition, teachers and school leaders communicate with students through various channels that make them comfortable, including texts, emails and social media sites.

"The main reason why we saw the increase is because we tailored our school program to the needs of our students. Our sole focus is on whether or not students will benefit," said Principal Hunt-Speight. "We worked to ensure that our school-based activities, student-based activities and professional development with teachers was around building relationships with youth, connecting with youth, encouraging youth and supporting youth."

There was no significant difference in graduation rates for traditional high school students from 2011 to 2012. At non-traditional high schools, there was a 7 percentage-point increase in graduation rates. Additionally, the number of four-year graduates for alternative schools increased by 12 percentage points.

ACGR Rates for Schools: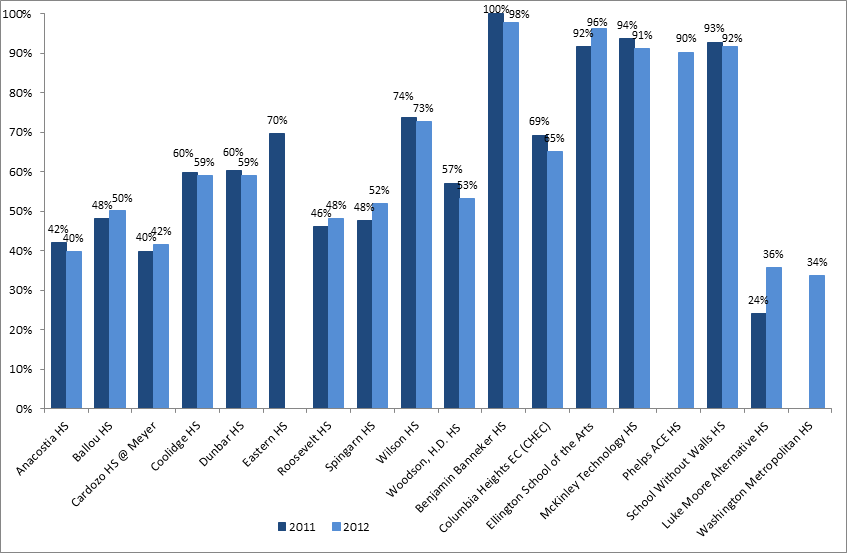 DCPS also calculated a five-year cohort graduation rate for the first time this year. An additional 6 percent of students who started high school in 2007 graduated this year, after five years of high school. The five-year graduation rate is especially significant for English language learner students, who often spend their first year of high school in English language acquisition courses.

2011 5-year graduation rate: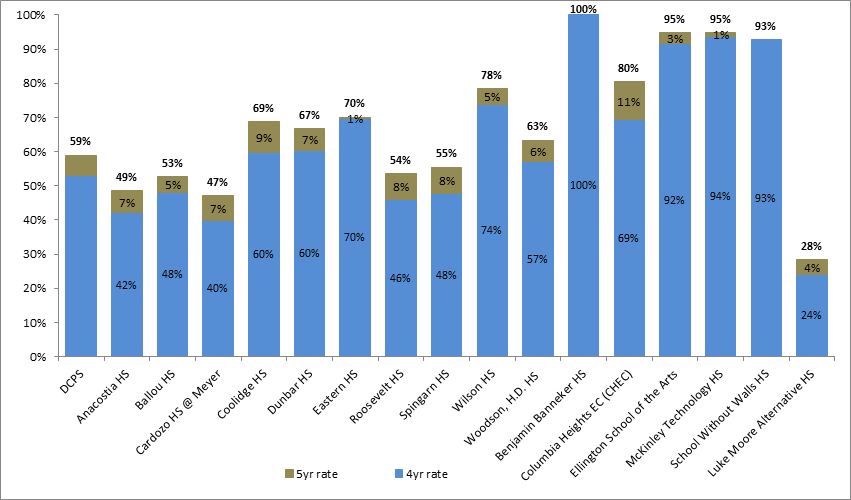 At Columbia Heights Education Campus, which includes a large population of high school English language learners, 11 percent of these students graduated, raising the school's five-year graduation rate to 80 percent.
For more information about graduation rates,
click here.
Contact: Melissa Salmanowitz | 202-535-1096