Wednesday, December 4, 2013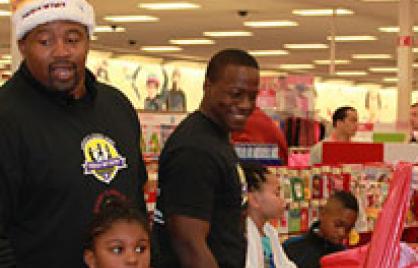 There was the pink Barbie scooter— 60 inches and 11.5 pounds of pure pink. Then there was the Redskins linebacker—6 feet and 238 pounds of pure athletic power.
A 7-year-old girl from Tubman Elementary examined the scooter and placed it into her cart. Linebacker Perry Riley nodded approvingly. He then turned his attention to a neon orange child's bike- it looked like he could eat it for lunch. He knelt down to the little boy who was looking at it.
"Think I should get one? Maybe I'm too tall."
Similar scenes replayed across the Target store in Sterling, Virginia on Tuesday. In aisle after aisle, 18 current and former Redskins players helped pick out toys, clothes, and other gifts for children half their size.
It was all part of an annual holiday shopping trip for underserved children who face challenges such as homelessness. Students from across the DC metro area, including 25 students from DCPS (from Tubman, Miner, and Ketcham Elementary Schools), were given $100 to spend at Target.
The event, now in its 10th year, was sponsored by the Family of Faith Foundation, founded by former Redskins defensive end Renaldo Wynn and his wife, LaTanya. Other sponsors included Every Child Fed and Target.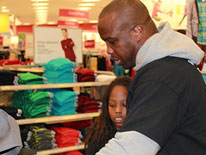 The morning started off with photos with the Redskins and pizza. Groups of students were then paired with players and a Target employee and then set off to roam the store.
Red carts zigzagged across the floor, as students directed players to help look for board games, action figures, and of course, sporting equipment—whatever struck their fancy. Like wide receivers during a fourth down, students were laser-focused on the game plan—find items that add up to $100 in two hours.
It was the Redskins' only day off, but they were working hard as ever. Some of them wore tan- and yellow- Redskins Santa hats as they pushed carts full of toys, clothes and books. Everyone wore giant smiles.
A fourth-grader from Ketcham, Robert*, brought a disposable camera with him to capture all the memories. His friend, Jordan*, grinned as he pointed to the shopping cart—Monopoly, Uno, and a Wii Mini. They scurried toward Will Montgomery, the Redskins' 304-pound center and guard, and asked for autographs. Linebacker London Fletcher helped two other boys pick out items.
The holiday spirit was in full display—not only from the Christmas decorations or the jolly Redskins players, but from the students themselves.
Kara*, another fourth-grader from Ketcham, carefully picked out Hello Kitty outfits in the girls' clothing section. She also picked out a heart necklace with two halves. But they weren't for her—they were for her younger sister, and she wanted to buy them for her simply because, "she's my sister."
She added the items to a cart already full of other toys and clothes for her three siblings. Kara bought only one gift for herself. Why?
"I love doing things for them," she said softly.
*names have been changed to protect student privacy
Photos by Simone Andrews