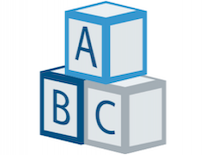 Welcome to Ready for Pre-K!
Curious about your child's development and learning?
Wondering how you can get your child ready for school?
Want to learn more about what to expect in Pre-K3?
For many families, the Covid-19 pandemic has changed the way we engage with the world on a daily basis. For toddlers this may mean that they are spending less time playing at daycare and more time at home with an adult. Join us to learn more about how you can create and strong learning environment at home!
At DCPS we know that families are children's first and most important teachers! Long before children start school they are growing and developing key skills that lay the foundation for later learning. In fact, by age 3, nearly 80% of brain development has occurred. That's why we're launching Ready for Pre-K! - a special DCPS Parent University series for families of toddlers and two-year-olds. These sessions will provide information about growth and development, ways to support your child's learning at home, and help you to feel confident that your child is Ready for Pre-K!
Each virtual learning session will focus on a different area of learning that is closely related to children's success in Pre-K and beyond. Sessions will be facilitated by a variety of content experts including DCPS early childhood Instructional Specialists, Pre-K teachers, DCPS Early Childhood Family Services Team members and other experts in child development. Each session will offer the opportunity to ask our experts questions about your child's development and how you can support their learning at home.
Register for an Upcoming Session
Sign up for a session at bit.ly/dcpsecersvp.
Social Emotional Learning and Development: Laying the Foundation for Success in Pre-K
Wednesday, November 18 at 5:30-6:30 pm
Building Children's Language Skills: Getting Ready for Pre-K One Conversation at a Time
Wednesday, December 16 at 5:30-6:30 pm
Early Literacy Development: Getting Ready for Pre-K3!
Wednesday, January 27 at 5:30-6:30 pm
Raising Capable Kids: Helping Your Toddler Learn Independence
Wednesday, February 24 at 5:30 pm
More Than Just 1,2,3: Building Children's Thinking Skills and Preparing for Math in PK
Wednesday, March 31 at 5:30 pm
Tears, Tantrums and Timeouts: Tips for Handling Challenging Behaviors
Wednesday, April 28 at 5:30 pm
Getting Ready for Pre-K3: Tips for a Smooth Transition into School
Wednesday, May 26 at 5:30 pm
Additional Resources
Check out the website below for more information about infant and toddler child development centers in DCPS, access to additional resources, and activities.
Certificate of Attendance
Parenting DCPS students are eligible to receive a Certificate of Attendance for attending five Ready for Pre-K sessions during the school year. For more information, contact: [email protected].