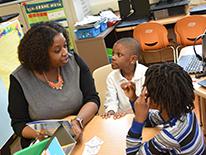 We believe that school leaders have an immense power to positively impact the life outcomes of their students. We also believe that school leaders will be most successful if they are supported in their work. The Leadership Development Division ensures leaders are prepared at each stage of their career with the full complement of skills and capacities necessary to guarantee student and school success. Key components of this support include:
Instructional Superintendent Support
To support our school leaders, DCPS has strategically focused on building a team of instructional superintendents (principal supervisors) who are skilled at helping principals grow as instructional leaders through both one-on-one and group interactions. The instructional superintendents dedicate the majority of their time to helping principals grow as instructional leaders through individual coaching and support. They also meet monthly with all principals within their cluster to engage in professional learning.
Leadership Academy
Principals engage in quarterly district-wide convenings focused on fostering collaboration and developing school leaders' knowledge in particular subjects and/or skillsets. During Leadership Academy, principals have opportunities to hear from one another, share best practices, and provide input on district-wide initiatives and challenging topics affecting schools.
New Principal Support
New principals are supported through a multiday onboarding experience in the summer, monthly new principal PLCs, and individual coaching from principal partners. The goal of DCPS' New Principal Orientation (NPO) is to set new school leaders up for success in their first 90 days through interactive and applicable sessions with key district staff. NPO covers a broad range of topics including planning for a successful school year, ensuring rigorous instruction, and navigating operational concerns. New principals also engage in monthly New Principal Professional Learning Community (PLC) sessions focused on varying topics based on new principals' feedback about their specific needs. Finally, new principals are supported by principal partners, successful DCPS principals who help new principals manage the transition to DCPS by helping them build relationships with central office and community partners, familiarize themselves with DCPS policies and procedures, and overcome challenges.
Executive Masters in Leadership for DC School Leaders
From 2013 through 2015, DCPS partnered with Georgetown University to develop and support an Executive Master's in Leadership degree program for a cohort of school and system leaders to develop skills for leadership in a large, urban public school system. In January 2017, DCPS reestablished that partnership with support from the Walton Family Foundation and launched the first-ever district-charter cohort of the EML program. Featuring a cohort model of 10 DC Public Schools (DCPS) and 10 DC charter school leaders, the DC Public School Leaders (DCPSL) EML program will enhance the skills and capacity of public school principals, while facilitating best-practice sharing across district and charter schools.