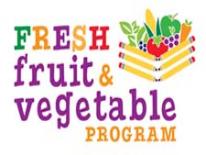 The Fresh Fruit and Vegetable Program (FFVP) is a federally assisted program providing free fresh fruits and vegetables to children at eligible elementary schools during the school day..
Goal of FFVP
FFVP provides an opportunity to all K-5 students in participating schools to be introduced to a variety of fresh fruits and vegetables throughout the school day that they may otherwise may not be exposed to. These introductions have a direct impact on the students diet, which positively impacts both their current and future health.
Eligibility of FFVP
Elementary schools are eligible to participate. Schools must operate the National School Lunch Program in order to operate the FFVP. Importantly, the FFVP prioritizes schools with the highest percentage of children certified as eligible for free and reduced price meals. This is because children from low-income families generally have fewer opportunities to consume fresh produce on a regular basis. In addition, school administration must elect to participate in FFVP.
FFVP Service
FFVP schools must serve the fresh fruits and vegetables outside the National School Lunch Program and School Breakfast Program meal service times, but during the school day. Beyond these requirements, schools have flexibility in determining their implementation plan. Food and Nutrition Services (FNS) will determine how often FFVP is served in schools and the type of produce served to students. Schools have the flexibility to choose the time and manner outside the breakfast and lunch meal service to provide fresh fruits and vegetables to children.
Nutrition Education of FFVP
To futher increase the likelihood of new fruit and vegetable consumption, nutrition education is also provided alongside with FFVP. To access our district's collection of FFVP nutrition education see below: