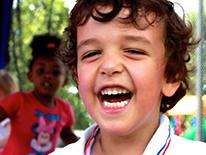 DCPS places a strong value on early childhood education and strives to make seats in these grades available to as many children as possible in a fair and equitable way. However, because students are not required by law to attend preschool (PK3) or prekindergarten (PK4), the "right to attend" is not extended to children in these grades.
DCPS offers seats for 3-year-old children in PK3 and seats for 4-year-old children in PK4. Per DC Municipal Regulations (DCMR), families may enroll children in PK3 if they are 3 years old and in PK4 if they are 4 years old, respectively, by September 30.
To apply for a PK3 or PK4 seat, families must submit an application through the My School DC lottery.
Early Action PK Schools
The DCPS Early Action Pre-Kindergarten program provides guaranteed access for in-boundary students applying to pre-kindergarten at participating schools. Students who live in-boundary for a participating DCPS Early Action school are guaranteed a seat at their in-boundary school in PK3 or PK4, as long as they meet two conditions: (1) they submit an application through the My School DC lottery by Tuesday, March 1, 2022 and (2) they are not matched with a school they ranked higher. If a student is matched at their Early Action PK school, they will not be waitlisted at any school they ranked lower. If the child is matched with the in-boundary school, the family must enroll the student by the lottery enrollment deadline of Monday, May 2, 2022 to secure their seat.
Participating DCPS schools in School Year 2022-2023 are:
Photo by Andy Le