Substitute teaching offers an opportunity to impact students in one of the most dynamic urban school districts in the country while maintaining schedule and location flexibility. As such, substitute teachers are expected to maintain a professional attitude toward their work and always keep in mind the school system's goals. Effective substitute teachers make a positive impact on students.
Substitute Responsibilities
Substitute teachers must sign in at the school office when they arrive for their assignment. They must also present the job number assigned to them through the automated system (SmartFind Express). The school administrators can answer questions regarding sign-in procedures. When accepting an assignment after the recorded start time, substitute teachers must call the school to confirm that a substitute teacher is still needed.
DCPS has 2 substitute teacher applications:
All substitute teachers are expected to do the following:
Follow the lesson plan left by the teacher and ensure students complete all assigned tasks.
Maintain a safe environment.
Keep students under direct supervision at all times.
Refrain from any inappropriate physical contact.
Use appropriate language at all times.
Use materials provided by the teacher or other school personnel.
Avoid engaging in or encouraging discussions of inappropriate or non-school related topics.
Become familiar with emergency procedures.
Notify school administration of any unusual incidents which may have occurred during the school day.
Leave information concerning the day's activities for the teacher.
Check with the administrator before leaving an assignment early at the end of the day.
Refrain from the use of cell phones for making or receiving calls or texting while students are present (except in the case of an emergency).
Refrain from the use of laptops and earpieces.
Substitute teachers are not to share personal social networking sites such as email addresses, Facebook, Twitter, Instagram or any social networking pages with students.
ECE (Early Childhood Education) substitute teachers work with students in pre-kindergarten (pre-K 3 and pre-K 4) classrooms and receive additional training for their role. They will often have another DCPS employee (teacher or aide) in the classroom for support.
In addition to the responsibilities listed above, ECE substitute teachers are expected to:
Implement early childhood active supervision strategies at all times (in the classroom, on the playground, in the bathroom, during transitions and at dismissal) to ensure that children are kept safe from harm. This includes counting children before and after all transitions and following the classroom's face to name recognition system.
Assist children with personal care and hygiene needs to include diapering, toilet training and preparation for nap time.
Assist with the facilitation of family style meals during lunchtime. Engage children in conversations about healthy eating habits and proper table manners.
DCPS Substitute Teacher Employment Application
The substitute teacher applications for School Year 23-24 are open on the DCPS career's page: dcps.force.com. Direct links to the applications can be found here:
At this time, DCPS will be accepting applications for candidates with 60 credit hours or more in lieu of a conferred degree AND one or more of the following criteria:
Candidates with 1-2 years' experience working with students in a classroom setting. ECE candidates must have 1-2 years' experience in an early childhood education classroom setting.
Retired teachers (DCPS and other US School Districts)
Applicants with less than 1 year of experience will be asked to submit a professional reference letter to [email protected] within 3 business days of application submission. Upon completion of the reference review, applicants will receive correspondence regarding the next steps in the hiring process.
Additional Information
Application Process
Upon review of a candidate's application, they may be invited to an interview. The interview is an integral part of the substitute teacher application process as it allows candidates to demonstrate their abilities through leading a mini lesson.
Substitute teacher candidates will take part in a virtual group interview led by the Temporary Instructional Staffing team.
ECE substitute teacher candidates will have the option of scheduling an in-person or virtual interview with the ECE School Support team.
If a candidate is selected for hire, they will also be required to pass a fingerprinting/background check, Sex Offender Registry check, a tuberculosis risk assessment, and a drug test. After completing all onboarding and clearance requirements, candidates will be sent an official DCPS offer letter. Within a few days of accepting their offer letter, candidates will be emailed instructions for registering with SmartFind Express, the automated system that substitute teachers use to find and manage job assignments.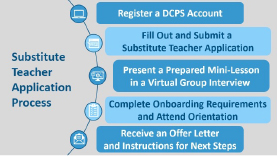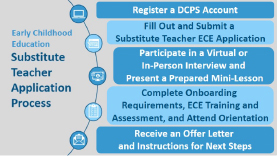 Eligibility
As of March 2016, the Office of the State Superintendent of Education (OSSE) will no longer issue substitute teacher licenses. To be considered for the position, candidates must have completed 60 college credit hours or more in lieu of a conferred degree. If selected for the substitute teacher position, candidates must submit official or unofficial transcripts. Foreign transcripts must be evaluated by an accredited credential evaluation agency.
Compensation
Here at DCPS, substitute teachers receive some of the most competitive pay in the region! Please see our compensation structure below:
Daily Substitute Teachers: $160/full day; $80/half day
Long Term Substitute Teachers: $200/full day
"Long-term" substitutes are defined as substitute teachers who work thirty consecutive days in one or a series of assignments. Long-term substitute teachers will receive a higher rate of pay ($200/full day) beginning on the thirty-first day of continuous service. Please note that if there is a break in service of six consecutive school days or more, their status would revert to the standard rate of pay of $160/full day; from there, a substitute teacher would need to accumulate 30 consecutive days of work in one or a series of assignments again in order to receive the long-term substitute teacher rate.
Our substitute teachers are integral to the success of our school programs. By investing in our substitute teachers, we hope that with the recent change it demonstrates DCPS' commitment to better schools for students and their families.
Assignments
Substitute teachers are considered to be temporary employees. Substitute teachers are assigned to jobs on an as-needed basis due to teacher absences or position vacancies. Job assignments may be daily or long term, and the tour of duty may be a half day or a full day, depending on the school's needs.
Substitute teaching job assignments may change based on the needs of the individual school. A substitute teacher may be asked to accept assignments outside of his/her background or educational training. They may also be asked to cover classes during a planning period. It is not expected that a substitute teacher be able to teach new or unfamiliar material, but rather make every attempt to follow the lesson plan and manage student behavior in the most positive way possible. Substitute teachers serving in Early Childhood Education (ECE) classrooms will often have another DCPS employee (teacher or aide) in the classroom for support. They will also receive ECE specific training in the areas of health and safety, active supervision, curriculum, and early childhood best practices.
Locations
Substitutes have the option of receiving daily job offers from schools all throughout the district, or they may work only at schools convenient to them. For a list of all our schools, please visit our school profiles page.
Questions
If you have any questions about Substitute Teaching with DC Public Schools, please feel free to email us at [email protected] or call us at (202) 442-4090.
Notice of Drug Testing
This position is a safety-sensitive position. All safety-sensitive positions are subject to mandatory pre-employment drug testing in accordance with the Child and Youth, Safety and Health Omnibus Act of 2004. If you are tentatively selected for this position, you will be required to submit to testing for illegal drug use prior to employment, and your employment shall be contingent upon negative test results. If you are appointed into this position, you shall be subject to mandatory random drug and alcohol testing throughout your employment.