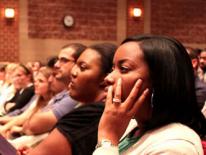 Now in its tenth year, the Chancellor's Teachers' Cabinet is a unique program designed to give teachers a stronger voice in shaping the future of DCPS.
This year-long program gives cabinet members the opportunity to meet with Chancellor Wilson on a monthly basis to provide input on key policy decisions, share their perspective from the classroom, and discuss the concerns of teachers in the district.
A valuable sounding board, the Cabinet ensures that teachers have a role in shaping district policies and priorities and creates a forum for developing and discussing new ideas.
Cabinet members will:
Engage in monthly meetings with the Chancellor
Provide input on key policy decisions
Share their perspective from the classroom
Build relationships with teachers from across the district
Past topics have included:
Feedback on Principal & Leadership Team Performance
Changes to IMPACT
The Common Core State Standards
Special Education
LIFT: Leadership Initiative For Teachers
In Seat Attendance
Family Engagement
Teacher Appreciation in Schools
Application and selection process:
The application process for the 2018-19 school year is now closed.
Important Dates
The first meeting will be held on October 25, and the Cabinet will meet monthly thereafter. Meetings run from 4:30 - 6:30 pm and are held at 1200 First Street, NE.
Contact Information
Please contact Nancy Washington at [email protected] with any questions.
What past Cabinet members have to say:
"I have adored working with all of my colleagues –from both schools and the central office. I think my friends, family, and colleagues are sick to death of me singing the praises of this experience."

"This has been an excellent experience to not only meet with the Chancellor but also to hear firsthand what is going on at the district and school level. It has also been invaluable to meet and talk with other teachers."

"This was one of the highlights of working in DCPS."

"I loved the opportunity to have my voice heard, and also to hear about the issues at other schools. The Chancellor's perspective and candor were much appreciated."

"As a new teacher I felt disconnected from the central office, and now I feel both connected and knowledgeable about major DCPS initiatives."

"It has been amazing! I really felt like we were being heard and that GREAT things are happening all the time at DCPS. I have gone back to my school and presented ideas and just praised what is going on at other schools."