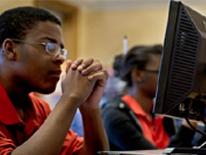 Students do better in school and in life when their parents are engaged in their education. One of the most important roles a family can play in the success of their children is to support their learning in the home.
The following resources are designed to help families understand what their students are learning in school, and provide guidance for supporting that learning at home.
Parent Portal (Students in Grades 6-12) :
The goal of the District's Parent Portal is to create an open portal of communication between teachers and families to more easily work as a team in supporting each student's learning. The portal provides families more insight into what occurs in the classroom, helping them become better equipped to support their child's strengths and areas of growth. For your username and password, contact your child's school.
DCPS has created instructional videos to guide parents through the ins and outs of Aspen Parent Portal. Check out the specific videos below for more information.