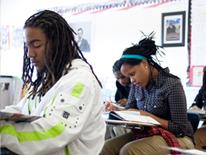 We believe in preparing our students with disabilities for life both inside and outside the classroom. That means giving them the tools they need now, so when they leave DCPS they can become successful adults holding good jobs, living independently and engaging in the community.
The Division of Specialized Instruction is working to expand the services, supports and programs available to provide students with disabilities with the opportunity to explore their future. These services, called transition services, focus on helping students learn the self-advocacy skills needed to live independently, pursue a college degree or practice job skills and search for the right career.
It is crucial that both parents and their children are active participants in planning for the future. There are some important milestones at which a child's IEP team should be reaching out to the parents, so that both the student and parents can discuss and make some crucial decisions about the future.
Ultimately, planning for life after high school means that students must be asked to think about the topics they will learn in school beginning in Pre-K:
Career Awareness
Pre-K
Students will learn about the concept of preference.
Students will demonstrate preferences through carious learning styles.
Kindergarten
Students will consider various emotions and apply knowledge of preference.
Students will express emotions based on experiences with their disability.
1st Grade
Students will focus on reading, writing, and speaking skills to articulate their needs.
Students will identify their preferences as it related to their literacy needs and career interests.
2nd Grade
Students will practice appropriate team building skills.
Students will demonstrate team building skills through various group activities designed to reinforce core subject areas.
3rd Grade
Students will recognize various personal abilities and career experiences
Students will discuss their personal abilities in everyday life, and relate it to working on a team with others
4th Grade
Students will discover various limitations in everyday life; students will consider difficulties that they may face.
Students will apply the concept of team building to recognize that everyone has limitations
5th Grade
Students will learn about their disability and identify how their abilities and limitations help shape their individual disability.
Students will create their own definition of their disability to help foster awareness of their strengths and needs.
Career Exploration
6th Grade
Students will express the areas of difficulty they face academically, and consider the necessary accommodations to assist them.
Students with consider accommodations based on their understanding of their disability.
7th Grade
Students will explore the concept of independence and independent living; students will recognize different variations of independence.
Students will apply knowledge of their limitations and abilities when considering their level of independence.
8th Grade
Students will learn about the various elements of their Individualized Education Plan (IEP).
Students will review their IEP to identify their needs and any changes that need to be made for their annual IEP.
Career Preparation
9th Grade
Students will examine various leadership skills and strategies to utilize in their daily lives.
Students will prepare to actively participate in the IEP in more of a leadership capacity.
10th Grade
Students will describe their measurable goals for post-secondary activities by comprehending the S.M.A.R.T. model for IEP goals.
Students will develop their own goals for their high school years and post-secondary transition.
11th Grade
Students will classify their rights as designated to them through various laws.
Students will apply knowledge of the Americans with Disabilities Act by clearly depicting how to approach an individual who is denying them their rights.
12th Grade
Students will differentiate between various opportunities in the post-secondary environment, and how to apply advocacy skills.
Students will consider how to speak up for their rights, their needs, and their wants in a post-secondary environment.
Continued Career Planning and Experience
Beyond 12th Grade
Students will focus on developing key skills to utilize in post-secondary environments; students will consider post-secondary accommodations to be successful.
Students will review previous concepts and learn to apply all skills learned to a post-secondary situation.
DCPS and the Division of Specialized Instruction are here to help our students find their best path, customized to what they want.
For more information on special education programs and services in DCPS, please refer to the DCPS Special Education Family Guide.