DCPS is seeking talented, dedicated leaders who have the skills and experience to lead our schools and the desire to help transform DCPS into the highest performing urban school district in the nation for all of our students.
We believe that all students can achieve at the highest levels. To do this, we need inspiring leaders who:
Are passionate about student achievement and closing the achievement gap
Believe that the urgency of closing this gap is too great to accept excuses
Motivate and support their teachers and staff while holding adults in the building accountable for ensuring student success
DCPS offers several types of Assistant Principal roles based on instructional levels and content areas. General AP positions are available in both the elementary and secondary level; additionally, content-specific roles are available in some schools based on school priorities, as well as a 9th grade academy AP position in some high schools.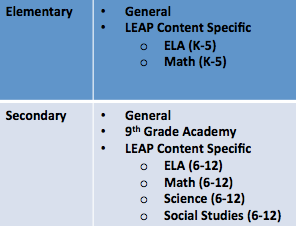 All DCPS Assistant Principals, regardless of position type, are expected to be data-driven, have noteworthy instructional expertise, and be able to effectively supervise adults to move student achievement. Content-specific AP positions are part of LEAP (Learning Together to Advance our Practice), a DCPS approach to professional development that is designed to provide instructional support to teachers. As a LEAP content-specific Assistant Principal, school leaders help lead seminars, classroom observations, and debriefs through the use of online platforms, core texts, and instructional guides.
Due to the focus on instructional expertise, candidates wishing to be considered for LEAP content-specific Assistant Principal positions must demonstrate proficiency on a LEAP content assessment to be eligible. When candidates apply for the Assistant Principal position, they will indicate which content assessment(s) they would like to take. Demonstrated proficiency per assessment results in candidates being placed in content specific hiring pools for AP roles after completion of all stages in the selection process. The assessment should take no longer than 60 minutes to complete depending on the content area, and does not require you to complete any pre-work in advance. For more information on LEAP Content Assessments please see their website.
The Assistant Principal selection process contains the following steps:

1. Online Application
During the online application you will be asked to provide the following:
Resume
Overview of your educational background and work experience
We suggest that you are prepared to complete the application in one sitting because you will not be able to make any edits or changes to your application after you have submitted. The entirety of the application should take no more than 30 to 45 minutes. After submitting the application, candidates that meet all pre-qualifications will be sent an email to complete the Instructional Video Activity.
2. Instructional Video Activity
Once you have completed the initial application you will receive an email with the Instructional Video Activity. You will watch a video of classroom instruction and answer a series of questions regarding the video. Candidates cannot continue to the next stage of the selection process if they have not submitted the Instructional Video Activity.
The School Leader Recruitment and Selection Team will review your Instructional Video Activity within 10-15 business days and you will be notified via e-mail of your application status. If you do not receive a status update within 15 business days, please email [email protected].
3. Performance Task
The next stage in the Assistant Principal selection process focuses on instructional leadership and coaching skills. Applicants are also asked to submit 3 professional references at this stage.
4. Phone Interview
Qualified candidates are scheduled for a 45-minute phone interview with a current DCPS Assistant Principal. The interview process will measure candidate's strengths through the lens of the Leadership Framework and alignment to the Capital Commitment.
5. Hiring Pool
After the phone interview, candidates are placed in the General AP approved pool. At this time, candidates will be invited to take the LEAP Content Assessment(s) that they identified on their application. Demonstrating proficiency on LEAP Content Assessments will result in candidates being placed in content-specific AP approved pools. Being placed into a hiring pool confirms one is eligible for hire but does not guarantee hire.
6. LEAP Content Assessment
When candidates complete their initial application, they will indicate which content assessment(s) they would like to take. Candidates can select up to six content assessments that align with their area(s) of strength. LEAP Content Assessments completed between (first date of hiring for SY17-18) and (last date of hiring for SY18-19) will roll over to this year's application; any LEAP Content Assessment taken prior to those dates will not roll over as part of the selection process for School Year 2019-2020 consideration. The assessment should take no longer than 60 minutes to complete and does not require you to complete any pre-work in advance. For questions about the LEAP Content Assessment, please feel free to reach out to the LEAP Team at [email protected]
Candidates will be placed in any/all content-specific approved pools for the areas where they have demonstrated proficiency.
7. School Based Selection
School campuses initiate communication with candidates to schedule school-based interview activities. School leaders confirm final candidate selections with Instructional Superintendents before moving forward; Instructional Superintendents and other senior academic leaders within DCPS may ask for the opportunity to meet with final candidate(s) and hiring Principals before a final selection is made.
8. Hiring & Onboarding
Once the final candidate has been determined, Principals initiate communication with the Office of Talent and Culture, who will provide the candidate with an official offer of employment. Candidates cannot receive an official offer from a school or begin work until the security clearance process has been completed and candidates have an official Administrator Services Credential from the Office of the State Superintendent of Education (OSSE).
If you have questions about the Assistant Principal selection process, please reach out to the DCPS School Leader Recruitment & Selection (SLRS) team at [email protected]. We would be happy to assist you.