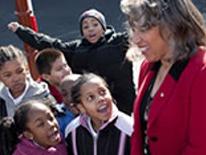 The goal of DCPS is to provide students with a quality education that prepares them to become future leaders, productive citizens, and individuals who are engaged in the life of the community.
Principal Position Overview - We are looking for highly motivated and skilled talent to join our team at District of Columbia Public Schools (DCPS). We seek individuals who are passionate about transforming the DC school system and making a significant difference in the lives of public school students, parents, principals, teachers and central office employees.
Assistant Principal Position Overview - DC Public Schools is seeking talented, dedicated asistant principals who have the skills and experience to lead our schools and the desire to help transform DCPS into the highest performing urban school district in the nation—for all of our students.