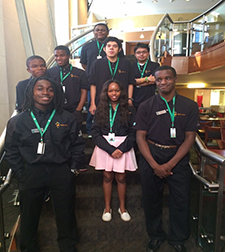 Project SEARCH Hilton – Capital Area Region (Formerly Embassy Suites—DC) is a one-year "school-to-work" transition program designed to prepare DCPS adult students with intellectual and other developmental disabilities for competitive employment. Project SEARCH Interns receive daily instruction in employability skills and gain hands-on work experiences by rotating among three 10-week unique paid internships at a one of four Hilton Worldwide host site locations. The goal for each student is competitive, integrated employment by the end of the experience.
Project SEARCH participants undergo three internship rotations within one of four corporate hotel host sites: Embassy Suites Convention Center DC, Capital Hilton, Doubletree Crystal City, and Embassy Suites Crystal City. Through internship rotations, interns may have the opportunity to gain skills in, but are not limited to, the following areas: Front Office, Food and Beverage, Banquets, Stewarding, Laundry, Concierge, and Housekeeping.
Project SEARCH interns are supported by a Project SEARCH team consisting of the following: Project SEARCH Instructor (DC Public Schools), Job Coaches (SEEC), host site staff (Hilton Hotels), Vocational Rehabilitation Specialist (Rehabilitation Services Administration), and off-site support staff. Through Project SEARCH, students are eligible for career counseling, job coaching, placement services and post-program support services with the District's Rehabilitation Services Administration.
Admissions Criteria
All interested candidates must:
Be enrolled as a DCPS student, and receiving Special Education services
Be pursuing a Certificate of IEP Completion, as reflected in their IEP Diploma Status
Be identified as having an Intellectual or other Developmental Disability
Be between the ages of 18 and 21
Express desire to train and attain employment
Agree to conclude their enrollment with DCPS/graduate at the end of the Project SEARCH program
Be willing to utilize public transportation to travel (free travel training is available)
Interested students are to complete an application and return their completed application to their school's Workforce Development Coordinator or Project SEARCH staff. Eligible students will receive an invite for an in-person interview. Those selected to proceed will then be invited to a Skills Assessment Day at the host site – selected participants will be notified following Skills Assessment Day. For more information about Project SEARCH or to learn more about the application process, please email [email protected].